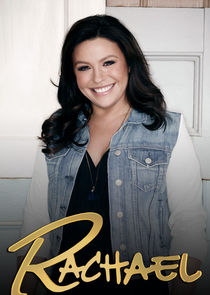 Rachael Ray (FOX

2006 - Running

)
Type: Talk Show
Status: Running
Runtime: 60
Premiered: 2006-09-18
Schedule: Monday Tuesday Wednesday Thursday Friday
Rating: 4.4
Season 16
10
2021-09-24
Ray and J Are Celebrating Their 16th Wedding Anniversary!
9
2021-09-23
Supermodel and Super-Mom Brooke Shields Gives Rach a Recovery Update on Her Devastating Injury
8
2021-09-22
GMA's Robin Roberts Is Back and Giving Us All Hope in Her New Docuseries, "Last Chance Transplant"!
7
2021-09-21
It's Our Sweet 16 Season, but Today's All About the Savory!
6
2021-09-20
The Biggest and Baddest Dessert Chefs Are Joining Us to Celebrate Our 16th Season With a Sweet 16 Party!
5
2021-09-17
Justin Long Joins Rach to Talk About His New Scary Funny Film, "Lady of the Manor"; Rachael Cooks Up a Simple Seafood Lover Supper!
4
2021-09-16
Kate Hudson's Here and She's Filling Rachael In on Her New Role in the Big Hit "Truth Be Told!"
3
2021-09-15
We're Celebrating Dishes That Make Us Say "Why Didn't I Think of That?" With Our Friends Chef Curtis Stone, Jacques Pépin and Sara Moulton
2
2021-09-14
Rachael's Celebrating Her Favorite Place on the Planet -- Italy -- by Taking Us Along on Her Journey to Renovate Her Dream Italian Villa!
1
2021-09-13
We've Got a Sweet Show Today for Our Season 16 Premiere! Jessica Alba Is Back With a Big Surprise!
Season 15
160
2021-08-23
Let's Take a Trip Around the Globe! Chef Jacques Pépin Shares His French Onion Soup Gratinee
159
2021-08-09
A Pasta-Packed Hour With Some of Our Favorite Foodies! James Beard Award Winner & "Chopped" Judge Chef Scott Conant
158
2021-08-02
Seven Delicious Ways to Use Up Your Pantry Staples! \"Chopped\" Judge Chef Marc Murphy's Souper Lentil Soup; Jordan Andino's Spicy Thai Pasta
157
2021-07-16
Rach's Shrimp Nachos + A PUP-Date On Rach and John's Dog Bella
156
2021-07-15
\"Cake Boss\" Buddy Valastro and \"Ace of Cakes\" Duff Goldman Team Up to Share Their Top Summer Treats! Plus, Top Chef Joe Flamm
155
2021-07-14
Rachael's Making Roasted Eggplant & Cherry Tomato Pasta alla Norma; The Author of "Jew-ish," Jake Cohen, Shares His Twist on Summer Salad
154
2021-07-13
Rachael's Cooking Up Beef Curry With Ginger and Leeks; Lifestyle Expert Tommy DiDario Helps One of Our Viewers Dress for Success
153
2021-07-12
Jenna Elfman Is on an All-New Rach! Then, Rachael's Got a Crazy Cool Pasta Mash-Up on the Menu
152
2021-07-09
Rachael and John Are Serving Up Easy-Peasy Pasta! Plus, Get Your Grill On With Ray the Butcher
151
2021-07-08
An Hour of Chicken Dinners! Rachael's Tasty Twist on Beer-Can Chicken; Chef Jet Tila's Kung Pao Chicken
150
2021-07-07
Sun's Out, Summer's On! Rachael Is Making a One-Skillet Supper! Plus, Rach's Dermatologist Shares How to Protect Your Skin
149
2021-07-06
Clinton Kelly Is Back With Amazing Baby Back Ribs! Rachael's Showing Us Her Simple Steakhouse Supper
148
2021-07-05
Rachael's Making One-Skillet Fish With Asparagus and Green Onions; Two Trainers Share Their Weight Loss Secrets
147
2021-07-02
Happy Fourth of July Weekend! James Beard Award-Winner, Rodney Scott, Is Dishing Up His Smoked Chicken and Slaw! Chef Ronnie Woo
146
2021-05-28
Rachael Kicks Off the Weekend With Fried Chicken That Has a Spicy Twist! And She's Joining Her Husband, John, and His Band, The Cringe!
145
2021-05-26
Rachael's Got a Simple, Delicious Linguini With Cherry Tomato Sauce! And Chef Ryan Scott Shares PB&J Pancakes!
144
2021-05-25
We're Going Inside the Homes of the Pros Today: A Kitchen Tour From Chef Sara Moulton, All Things Beauty From Mally Roncal, and More!
143
2021-05-24
Rachael's All-New Mac and Cheese -- Yes, Please! Plus, Kristen Kish of \"Top Chef\" Makes Broccoli Bites!
142
2021-05-20
Rachael Is Serving Up Cannelloni With a Spicy Red Sauce! Plus, an Hour Full of Home Improvement Tips That Won't Break the Bank!
141
2021-05-19
Rachael's Making a Chicken and Orzo Soup With Peas and Carrots That's Perfect for Spring!
140
2021-05-17
We've Got an Hour Packed With Sheet Pan Suppers -- and a Dessert!
139
2021-05-14
Rachael's Catching Up With Her Pal Denis Leary! Plus a Performance From Musician Bob Schneider, and Rach Makes Burgers With a Spicy Kick!
138
2021-05-13
Two DIY Pros Test Out Home Renovation Tools That Could Help You on Your Next Project! And Rachael's Seafood Supper!
137
2021-05-12
Andrew McCarthy Is Dishing on Life in the '80s With the "Brat Pack"! Plus, Chef Deborah VanTrece Is Making Her Bacon Praline Mac & Cheese!
136
2021-05-10
We're Stepping Up Our Fashion and Food Game Today! Stylist Stacy London Takes Us Inside Her Closet for Top 2021 Trends!
135
2021-05-07
We're Kicking Off Mother's Day Weekend With Justin Long and His Mom, Wendy! And Rachael's Got the Perfect Celebration Brunch!
134
2021-05-06
Gretta Monahan Shares Her Self-Care Routine, and Dr. Roshini Raj Has Expert Advice on Training Your Brain and Using Your Gut -- Literally!
133
2021-05-05
Queer Eye's Carson Kressley Is Back, and He's Cooking Up a Family Favorite Dutch Potato Dish! Plus, Lemon Bars From a 19-Year-Old Chef
132
2021-05-04
We're Sharing Inspiring Stories All Hour Long! Style Pro Tommy DiDario Gives the Star Treatment to a Teacher Who Saved Her Co-Worker's Life!
131
2021-05-03
Some of Our Favorite Foodie Pals Join Rach Today! Chef Andrew Zimmern Makes One of His Guilty Pleasure Dishes: Walking Tacos!
130
2021-04-30
It's Friday With Ray & J, and Rachael's Making Pepper Steak! Plus, Designer Carter Oosterhouse Reveals How He Created a Double-Duty Office!
129
2021-04-29
Rachael's One-Pan Pasta With Pancetta; "Top Chef" All-Star Eric Adjepong Stacks Up a Burger; A Sweet Surprise for Two Brothers!
128
2021-04-28
Shark Tank's Barbara Corcoran Dishes Out Business Advice to Our Viewers, on Everything From Real Estate to Being Your Own Boss!
127
2021-04-27
Rachael Has Three Ways to Top Your Hot Dog -- With Fresh Relish, Sweet Onion, and More! Plus, "World News Tonight" Anchor David Muir!
126
2021-04-26
Bobby Flay Is Serving Up Nachos for Dinner! Plus, Meet the Inspiring Couple Who Created a Pet Food Pantry for Their Community!
125
2021-04-22
Our Experts Are Serving Up Their Style, Design and Tech Essentials! Plus, Rachael's Making a Classic: Chicken Riggies!
124
2021-04-21
Tony Hale Gives Rach the Scoop on His Role in the Upcoming "I Love Lucy" Film! And, Rachael's Making a Greek Feast!
123
2021-04-19
We're Serving Up Meals You Can Eat for Breakfast, Lunch or Dinner -- Including Rachael's Five Genius Bagel Toppings!
122
2021-04-16
Jeff Mauro From Food Network's "The Kitchen" Is Grilling Carne Asada for a Family Steak Night! And, Rachael's Making John's Latest Favorite!
121
2021-04-14
Dr. Ian Smith Serves Up a Healthy Salmon Supper and Shakes Up a Mocktail With John!
120
2021-04-13
"Cake Boss" Buddy Valastro Schools Rach in Three Cake Decorating Techniques -- and Has a Sweet Surprise for One of His Biggest Fans!
119
2021-04-12
Rachael's Quick and Simple Buffalo Chicken Dinner! Plus, an Easy Soup Recipe From One Man Who Lost 100 Pounds Cooking With His Instant Pot!
118
2021-04-07
Guy Fieri Is in the Hot Seat Answering Viewer Questions and He's Also Opening Up About His Work to Help Restaurant Workers
117
2021-04-06
Chris Kimball Is Whipping Up Three Quick and Easy Dishes, Perfect for a Busy Night; Chef Jacques Torres From Netflix's "Nailed It!"
116
2021-04-02
"Good Morning America's" Robin Roberts Is Dishing on Her Latest Project on Lifetime, and Sharing What She's Grateful for Today
115
2021-04-01
"Queer Eye's" Karamo Is Back and Giving Real Life Advice for a Few of Our Viewers; Meet an Incredible Woman Who Is Fighting Food Insecurity
114
2021-03-31
Rachael's Serving up an Easy Easter Brunch; Molly Yeh From "Girl Meets Farm" Is Making Macaroons For Passover; Adult Easter Basket Ideas
113
2021-03-29
"Top Chef's" Richard Blais Is Getting Help in the Kitchen From His Wife and Kids to Make Homemade Fish Sticks
112
2021-03-26
Giada De Laurentiis Is Dishing On Her New Cookbook, "Eat Better, Feel Better," and Making an Easy Sheet Pan Dinner
111
2021-03-24
Katie Lee Biegel Is Dishing on Life as a New Mom and Her New Book, "It's Not Complicated"; Rachael's Cooking Up Pappardelle Pasta
110
2021-03-22
World-Renowned Chef Jacques Pépin Is Sharing His Recipe for Salmon Au Gratin; ABC News Journalist Gio Benitez Is Dishing On His New Show
109
2021-03-17
Celebrate St. Patrick's Day With Rachael's Potato Soup and Three Different Ways to Top It -- Like Corned Beef and Cabbage
108
2021-03-16
GMA's Lara Spencer Is Giving a Tour of Her Home and Dishing On Her New HGTV Show, "Everything But the House"; Rachael's Favorite Storyteller
107
2021-03-15
Emmy, Grammy, Oscar and Tony Winner Whoopi Goldberg Is Here; John Oates, of Hall and Oates Is Performing a Classic Hit Song
106
2021-03-12
Rachael Celebrates Her Sister Maria's Birthday With Crispy Chicken Croquettes; Plus, Maria Is the Baker of the Family!
105
2021-03-10
"The Amazing Race" Host Phil Keoghan Is Talking Season 2 of "Tough as Nails"; Tommy DiDario Is Sharing His Spin on Chocolate Chip Cookies
104
2021-03-08
Bob Harper Shares How He's Getting His Workouts in at Home; Co-Founder of the Meatless Mondays Movement: Mary McCartney
103
2021-03-05
Rachael's Making a Crowd-Pleaser Today: French Onion Risotto; And, Rach and her Husband John Are Answering Viewer Questions
102
2021-03-03
It's Make Your Own Pizza Night at Rachael's House! And She's Making a Tomato Pie on a Sheet Pan!
101
2021-03-02
Clinton Kelly Is Back With a Simple, No-Bake Dessert; Rachael's Serving Up a Salad With Sliced Steak and a Caesar-Style Dressing
100
2021-03-01
Ethan Suplee From \"Remember the Titans\" Is Opening Up About His Over-280-Pound Weight Loss; Makeup Maven Mally Roncal
99
2021-02-26
From the New Game Show Cherries Wild, Jason Biggs Is Here! Plus -- Chef Michael Solomonov Is Making Moroccan Donuts!
98
2021-02-25
Michael Peña Is Dishing on the New Tom and Jerry Movie! Then -- Jay-Z's Stylist, June Ambrose!
97
2021-02-24
Superstore's Lauren Ash! And -- Rachael's Dropping In on a Virtual Event for the Muttville Senior Dog Rescue! Plus -- Eggplant Parm!
96
2021-02-23
Freddie Prinze Jr. Is Talking Family Life With Wife Sarah Michelle Gellar and the Revival of Punky Brewster!
95
2021-02-19
Today's Our Bagel Lab Show! Rachael Is Breaking Down Ways to Top Your Bagel Game for Breakfast, Lunch and Dinner!
94
2021-02-18
Drew Barrymore Is Dishing on Family Life and The Drew Barrymore Show; A Doctor Breaks Down the Medical Must-Haves
93
2021-02-17
Today's Show Is Going to Help You Fight Off the Winter Blues! The Sleep Doctor Is Sharing All of His Tips to Help You Sleep Better!
92
2021-02-16
Master of Home Makeovers, Ty Pennington, Is Giving Us an Exclusive Look at His Jaw-Dropping Home Renovation!
91
2021-02-15
We've Got a Doctor in the House Answering Viewer Questions on Parenting During a Pandemic!
90
2021-02-12
Rachael's Husband, John, Is Taking Over the Kitchen for Valentine's Day and Making Her an Easy Chicken Saltimbocca!
89
2021-02-11
Rachael's Celebrating Galentine's Day With Camila Alves McConaughey, Who Is Showing Off the Ultimate DIY Gift: a Bacon Bouquet!
88
2021-02-10
Priyanka Chopra Jonas Is Sharing Childhood Memories and Filling Us In on Life With Her Husband, Nick Jonas
87
2021-02-08
Katherine Heigl Is Dishing on Her Netflix Show, Firefly Lane, and Her Husband, Josh Kelley, Is Performing; Bobby Flay Is Making Bucatini
86
2021-02-05
The Super Bowl Is This Sunday, and We're Kicking Off the Weekend With Our Virtual Super Bowl Recipe Playoff!
85
2021-02-03
Chef Richard Blais Is Back for Another Cooking Challenge; He Has to Make a Delicious Dish Using the Two Most Googled Ingredients
84
2021-02-02
Christopher Kimball Is Making Tacos Using His Favorite Kitchen Gadgets; Rachael's Serving Up Stuffed Eggplants for Dinner
83
2021-02-01
Washington Football Team Quarterback Alex Smith Is Talking His Remarkable Recovery From a Devastating Injury and How He's Giving Back!
82
2021-01-29
Rachael's Orecchiette With Bacon + More Q & Ray + J Questions Answered!
81
2021-01-28
We're Gearing Up For The Biggest Day In Football With Brandon Copeland + Rach's Stuffed Potato Skins
80
2021-01-27
Rach's Lemon Risotto + The Best Deals For Valentine's Day Gifts & Skincare Gadgets
79
2021-01-25
Rob Lowe On Working With His Son on 9-1-1 Lone Star + Rach's Roasted Cauliflower Orecchiette
78
2021-01-22
Rachael Is Serving Up a Quick Dinner: Maple Pork Chops With Garlicky Mashed Potatoes; Plus, Tom Payne Is Back
77
2021-01-21
Rachael Is Kicking Off the Show With a Roast Chicken Dinner in One Pan; Then, From Chopped, Amanda Freitag Is Cooking Up Another Easy Dinner
76
2021-01-18
Rachael's Making Bacon Cheddar Burgers; The Hilarious Ali Wentworth Has Some Advice for a Mother-Daughter Duo, Just Like in Her Podcast
75
2021-01-15
Shark Tank's Daymond John Is Dishing Advice on Everything From Business Start-Ups to Nailing a Job Interview
74
2021-01-14
Daphne Oz Is Putting a Healthy Spin on a Cheesy Comfort Food; Fashion Pros Gretta Monahan and Zanna Roberts Rassi
73
2021-01-12
Today's Show Is All About Home; From HGTV's Home Town, Ben and Erin Napier Have a DIY Project
72
2021-01-11
We've Got a Jam-Packed Hour of Top Tips From Rachael's Favorite Culinary Friends
71
2021-01-08
Rachael's Showing Off a New Skill She Picked Up in Quarantine - Cutting John's Hair
70
2021-01-06
Million Dollar Listing New York's Ryan Serhant Is Dishing Out Priceless Advice on How to Buy and Sell Your Home
69
2021-01-05
Tim Tebow Is Dishing on His New Children's Book and His Three New Puppies; Rachael's Serving up Breakfast, Lunch or Dinner
68
2021-01-04
Chef Anne Burrell Has An Easy Pantry Recipe For You - a Dutch Baby Pancake With an Apple and Bacon Topping
67
2020-12-24
Christmas Eve Snacks: Eggplant Croquettes, Fried Stuffed Sage Leaves + Rach's Grandpa's Artichokes
66
2020-12-23
Rach Takes You On a Tour of Her Outdoor Holiday Decorations + Actress Ryan Michelle Bathe
65
2020-12-22
Rach's Sister, Maria, Shares Family Christmas Cookie Recipes + Sweet Memories
64
2020-12-21
Rach's Thai Stuffed Omelets & Cucumber Salad + How To Turn a Christmas Tree Into a Winter Wonderland
63
2020-12-18
Rachael's Serving Up a Chicken-and-Macaroni Casserole Topped With Potato Chips! Then, an Award-Winning Chef Who Literally Feeds the World!
62
2020-12-17
Show Business Legend Candice Bergen Is Back and She's Dishing On Her New Movie With Meryl Streep, Let Them All Talk
61
2020-12-15
Tiffani Thiessen Is Dishing On Family Life and Hosting Deliciousness, a New Show All About Food Fails; Rachael's Got the Easiest Brisket
60
2020-12-14
Rosie Perez Is Talking About Her New Murder Mystery Series, The Flight Attendant; Chef Ryan Scott's Got Great Ideas for Holiday To-Go Meals
59
2020-12-11
Rachael's Making an Easy Florentine Pasta You Can Make With Your Pantry Staples; Co-Host of The Kitchen Katie Lee Biegel
58
2020-12-10
The Star of Netflix's Holiday Home Makeover With Mr. Christmas Is Sharing Decorating Tips
57
2020-12-08
Rachael's Giving a Tour of Her Home Holiday Décor; Chopped Judge Chef Marc Murphy Is Serving Up Two Easy Holiday Dishes
56
2020-12-07
Hair Stylist to the Stars Chris Appleton Is Sharing Simple Solutions for At-Home Hair Problems
55
2020-12-02
Chef Bobby Flay's Roasted Spaghetti Squash; Rachael's Making Greek Fish or Chicken; Plus, Meet an Inspirational Mom We're Giving a New Look
54
2020-12-01
Patricia Heaton Is Inspiring Us With Her New Book, Your Second Act; Plus, New York Times Food Writer Melissa Clark
53
2020-11-30
Matthew McConaughey Is Sharing Personal Stories From His New Memoir; Rachael's French Onion One-Pot Pasta
52
2020-11-25
Easy Caramel Apple Pie + Rachael's On-The-Fly Turkey Cutlets
51
2020-11-24
Oprah's Favorite Things With Gayle King + Michael Symon's Grilled Pumpkin Bread Pudding
50
2020-11-23
Cameron Diaz Talks Family Life & Quarantine Hobbies + Rachael's Turkey Parm
49
2020-11-20
Kristin Chenoweth Is Talking Her New Show Candy Land; Rachael's Pumpkin Vodka Cream Pasta; Chef Richard Blais
48
2020-11-19
Michael J. Fox Is Sharing Stories From His New Memoir; Rachael's Easy One-Sheet Turkey Tray Bake
47
2020-11-18
The Cake Boss, Buddy Valastro, Is Baking in His First TV Demo Since His Hand Injury; Meet a Man Who's Helping Struggling Farmers
46
2020-11-17
Rachael's Making a Lasagna Perfect for Autumn; Top Chef's Gail Simmons Is Serving Up Maple Bacon Bread Pudding
45
2020-11-16
Rachael's Serving Up a Thanksgiving Side Dish With Sausage; Music Monday Is Back With Icon Patty Smyth; Jeanette From Our Culinary Team
44
2020-11-13
The Hilarious Wendi McLendon-Covey Video Chats With Rach + Rach's Pantry-Friendly Recipes
43
2020-11-12
Chef Scott Conant's Pumpkin Parmigiana + Heartwarming Surprise For 80-Year-Old Firefighter
42
2020-11-11
Rachael's Turkey Schnitzel + Meet Hero Veteran & Rescue Dog Saving Lives During Pandemic
41
2020-11-10
Chef Dan Kluger's Glazed Sweet Potatoes + Rach's Chicken Tray Bake & Stuffing Balls
40
2020-11-09
Celebrate Our 2,500th Show + Cook Along With Rach & Superfans For The Entire Hour!
39
2020-11-06
Rachael's Serving Up a Chicken Curry With a Twist; Two of the Impractical Jokers Are Giving Us a Laugh
38
2020-11-05
Rachael's Answering All of Your Pressing Questions in Our Mailbag Show; Tips on How to Save Money on Everything From Utilities to Groceries
37
2020-11-04
Rachael's Crispy Brisket Hard Shell Tacos; We're Checking In on Two Viewers Who Turned Their Porch and Garage Spaces Into DIY Oases
36
2020-11-02
Jenny McCarthy Talks the Newest Season of the Hit Show The Masked Singer; Style Pro Gretta Monahan Settles a Few Viewers' Clothing Disputes
35
2020-10-30
How Does Rachael Pull Off Halloween at Home? We've Got Alfonso Ribeiro With Some of America's Funniest Home Videos -- Halloween Edition!
34
2020-10-29
Rachael's Cooking Up Seasoned Noodles and Cucumber Salad; Dr. Ian Smith Answers Viewer Questions; Dr. William Li
33
2020-10-28
ABC News' Meteorologist Ginger Zee; Rachael's Making Pumpkin Soup and Grilled Cheese; Healthy Pumpkin Spice Muffins
32
2020-10-27
Rachael's Easy Weeknight Supper You Can Make on One Tray; Award-Winning Chef Marcus Samuelsson's Coconut Fried Chicken
31
2020-10-26
Rachael's Teaching You How to Make a Deviled Chicken With Cheesy Butternut Squash; Lin-Manuel Miranda's Dad, Luis Miranda, Joins Us
30
2020-10-23
Rachael Is Serving Up Carnitas for Dinner; A Surprise for Our Friends at the Downtown Boxing Gym in Detroit
29
2020-10-22
Bob Harper Is Cooking Along With Rachael, and They're Making the Perfect Dish for Pasta Night
28
2020-10-21
Chef Curtis Stone Is Making a Family Favorite: Fried Chicken; Meet Three Amazing Teens Who Are Literally Superheroes in Their Community
27
2020-10-20
We're Celebrating the World Series With Former Yankees Player and World Series Champion Nick Swisher
26
2020-10-19
Dr. Oz Checks In On Viewers With Virtual House Calls; A Surprise for a Superfan; Rachael's Making Risotto for Dinner
25
2020-10-16
Shark Tank's Barbara Corcoran Answers Viewer Questions; Rachael's Cooking up a Chicken Pasta for Dinner
24
2020-10-15
Michael Strahan's Here and He's Filling Rachael in on His New Clothing Collaboration With the NFL and His New Quarantine Hobby
23
2020-10-14
Chef Christopher Kimball's Serving Up Three Easy Chicken Recipes; A Surprise for an Incredible Firefighter Who's a Hero in His Community
22
2020-10-13
Kathie Lee Gifford Talks Her New Kids Book and Is Sharing Memories With Her Friend, Regis Philbin; Rachael's Classic Beef Stew
21
2020-10-12
Jane Lynch Talks Hosting The Weakest Link; A Chicken Roll-up Dish and Chili Dogs That Will Get Your Kids Involved in the Kitchen
20
2020-10-09
Pitbull Is Here and He's Filling Us In on How to Catch One of His Concerts From Home; Chef Geoffrey Zakarian Is Cooking With His Daughters
19
2020-10-08
The Hilarious Ali Wentworth Is Getting Real About Mom Life and Dishing Out Advice to Viewers; A Sleep Doctor Shares Simple Tips
18
2020-10-07
Chef Ronnie Woo's Testing Out the Latest Food Crazes; Home Design Tips With Taniya Nayak; And It's Pasta Night at Rachael's House
17
2020-10-06
Rachael's Serving Up the Perfect Fall Dish: Pumpkin Spice Pasta; Chef Richard Blais; A Big Surprise for a Small Business Superstar
16
2020-10-05
Valerie Bertinelli Is Making Onion Rings and a Wedge Salad on the Side; Rachael's Cooking Up an Autumn Pasta With Mushrooms
15
2020-10-02
Rachael Is Cooking up a White Wine Chicken Dinner; Plus, a Big Surprise for a Farm That Is Helping Their Local Community
14
2020-10-01
Rachael and John Give a Tour of Their Guest House; Chef Jacques Pépin; Party Planner to the Stars Mary Giuliani
13
2020-09-30
Former First Lady Michelle Obama Talks With Rachael; Plus, Rachael's Making Broccoli and Macaroni Casserole for Dinner
12
2020-09-29
Bob Harper's Home Workout; Dr. Ian Smith Is Answering Viewer Questions on Everything From the Flu Shot to Stress Eating
11
2020-09-28
Sterling K. Brown Talks the New Season of This Is Us and Parenting Lessons He's Learned in Quarantine
10
2020-09-25
Superstar Gloria Estefan Chats With Rachael; Rachael's New Puppy, Bella, and Her Trainer Show Off What She's Learned
9
2020-09-24
Jenna Bush Hager; Rachael Serves Up a Cobb Salad Packed With Bacon and Smoked Chicken; DIY Bathroom Updates With Designer Chip Wade
8
2020-09-23
Comedian Colin Quinn; a Doctor Is Breaking Down the Most Effective Masks to Protect Yourself During the Pandemic
7
2020-09-22
Bobby Flay; Carla Hall
6
2020-09-21
Chefs Guy Fieri, Andrew Zimmern and Curtis Stone
3
2020-09-16
Drew Barrymore
2
2020-09-15
Jessica Alba
Season 14
160
2020-08-27
Rach's Spin On French Onion Soup + Style Tips From Gretta Monahan & Zanna Roberts Rassi
159
2020-08-24
Rach's Twist On Sloppy Joes + Taco Night Hacks From NYC Hot Spot Owner
158
2020-08-21
The Scoop on Cutting-Edge Medical Breakthroughs; Rachael Makes a Korean Chicken Dinner
157
2020-08-18
Instagram Fitness Star Kayla Itsines Answers Viewers' Questions; Rachael Makes a Brand-New Chicken Dinner
156
2020-08-17
Experts Break Down the Hottest Gadgets for Everything From Cooking to Home Décor and Fitness; Rachael Serves Up Sausage Stuffed Peppers
155
2020-07-28
Rachael Makes a Buffalo Chicken Salad; Style Pro Kyan Douglas Pulls Off an Incredible Makeover; Chic and Easy DIY Projects
154
2020-07-22
ALL-NEW: Rach's Chorizo Quesadillas With Spicy Ranchero Sauce + How To Get Hollywood Hair At Home
153
2020-07-21
ALL-NEW: Rach's Chicken Adobo + David Burtka's Flourless Chocolate Cake with Almond Whipped Cream
152
2020-07-14
ALL-NEW: Rach's Latest Twist On a Steak Dinner + Best Weighted Blanket?
151
2020-07-08
The Best Sports Bras For Every Body + Foods That Could Help You Live Longer
150
2020-07-07
Rach's Vegetarian "Meat" Sauce + 2 Genius Products That Help Fight Bacteria
149
2020-07-03
ALL-NEW 4th Of July Show: Watermelon Ladybug Centerpiece + Ranch Fried Chicken Sandwiches
148
2020-07-01
ALL-NEW: Rach's Three-Meat Ragu Pasta + Gail Simmons' Eggs in Crispy Potato Skins
147
2020-06-26
DIY Fire Pit With Carter Oosterhouse + Rach's One-Pan Dinner
146
2020-06-22
Rach & John Introduce Their New Puppy Bella Boo Blue + Rach Sings With The Cringe
145
2020-06-19
Rach's Chicken Milanese + Chef Michael Symon's Affordable Steak Dinner
144
2020-06-15
Rach's Beer Can Chicken + Summer Grilling Tips From a Pro
143
2020-06-12
Carla Hall's Summer Shrimp Wedge Salad + Rach's Surf & Turf Caesar Salad
142
2020-06-08
Rach Is Joined By Pulitzer Prize & Emmy Award-Winning MSNBC Correspondent Trymaine Lee
141
2020-06-05
Rach's Grilled Whisky Wings + Valerie Bertinelli's Spicy Feta Dip
140
2020-06-01
Bob Harper & Rachael's Cook-Along: Greek-Style Ke-'Bobs' On The Grill
139
2020-05-29
Rach & John Fire Up Their Pizza Oven For Pizza Night + John's Basil Martini
138
2020-05-26
Clutter Solutions For 2 Couples From Peter Walsh + Chicken Scarpariello
137
2020-05-25
Rach's Horseradish Ranch Burger With Swiss + Jalapeño Popper-Inspired Hot Dog
136
2020-05-22
Ayesha Curry + Camila Alves McConaughey Help Celebrate Latest Issue of "Rachael Ray In Season"
135
2020-05-21
Rach's Fondue + Mary Giuliani's Fancied-Up French Fries & Chef Ryan Scott's Hummus
134
2020-05-20
Chef Tom Colicchio's Chicken Cacciatore + Rach's King Ranch Casserole
133
2020-05-19
Gail Simmons Turns Dinner Leftovers Into 2 Desserts + Rach's Easy, Cheesy White Chicken Chili
132
2020-05-18
Actor-Turned-Instagram Star Leslie Jordan + Rach's Shrimp and Chorizo Paella
131
2020-05-15
ALL-NEW: Hasan Minhaj On Shooting "Patriot Act" From Home + Rach's Pub Cheese Burger
130
2020-05-13
ALL-NEW: Katie Lee's Lemon Butter Pasta + Rachael's Pasta Primavera
129
2020-05-11
ALL-NEW: Make-Your-Own-Takeout Night At Rach's House + Jack Antonoff Performs From Home
128
2020-05-08
ALL-NEW: Rach Chats With Curtis "50" Jackson + French Toast For Mother's Day
127
2020-05-07
ALL-NEW: Bacon, Leek & Tomato Pasta + Money-Saving Home Design Tips
126
2020-05-05
ALL-NEW: Rach's Pork Katsu Sandwiches + We Try Breakfast, Lunch & Dinner Gadgets
125
2020-05-04
ALL-NEW: Rach Chats With Julie Andrews + Shrimp Quesadillas & Cucumber Margaritas For Cinco de Mayo
124
2020-05-01
ALL-NEW: Rach's Grocery-Cleaning Routine + How Chef Jose Andres Is Helping During The Pandemic
123
2020-04-29
ALL-NEW: Former NFL Star Nate Burleson Co-Hosts + Dr. Ian's Weight-Loss Motivation Tips
122
2020-04-27
ALL-NEW: Rach's Sheet Pan Chicken Dinner At Home + A Celeb Cooking Challenge
121
2020-04-24
ALL-NEW: Date Night For Rach & John + Pinwheel Steaks
120
2020-04-20
ALL-NEW: Rach's BBQ Chicken Nachos From Home + Grace Potter Performs
119
2020-04-17
Rachael At Home: Burger Night At Rach's House + Chris Kimball's Instant Pot Bean Salad
118
2020-04-13
Rachael At Home: Rach's Spicy Lasagna + Bob Schneider Performs From Home
117
2020-04-10
ALL-NEW From Rach's Home: 3 Pantry Staple Recipes With Canned Tuna + Easy Easter DIYs
116
2020-04-06
ALL-NEW: #StayHome With Rachael & Her Hubby John + 3 Recipes Using Canned Chickpeas
115
2020-03-24
Try It Tuesday Goes for a Spin! We're Betting Our Girl Gretta Monahan Can Hook Up a Guy With Two New Looks on the Fly!
114
2020-03-23
We Brought Back Professional Bra Fitter Kimmay Caldwell
113
2020-03-18
"Prodigal Son's" Bellamy Young is Dishing on Playing a Serial Killer's Ex-Wife on the Show
112
2020-03-17
Today We're Surprising a Lucky Viewer with a Makeover
111
2020-03-16
Chef Richard Blais is Back Cooking Up a Dish That Helps Him Stay in Shape!
110
2020-03-13
Chef Andrew Zimmern Is Back in the Kitchen with Rachael
109
2020-03-12
Rach Is Hanging with Chef Ronnie Woo and New York Times Food Writer Melissa Clark
108
2020-03-11
It's the Battle of the Bakers! Buddy the Cake Boss Versus Ace of Cakes, Duff
107
2020-03-10
Queer Eye O.G. Carson Kressley Is Back to Solve Our Viewers' Closet Challenges
106
2020-03-09
Seven-Time Grammy Winner Carrie Underwood Is in the Kitchen with Rach Today
105
2020-03-06
From the Hit Show 'Blue Bloods,' Tom Selleck is Here
104
2020-03-03
All Rise For Judge Jerry Springer
103
2020-03-02
One of Rachael's Favorite Guys is Back – Guy Fieri!
102
2020-02-28
Daphne Oz is Back in the Kitchen with Rachael and She's Cooking up a Steak with a Walnut-Pesto Twist
101
2020-02-27
Giuliana and Bill Rancic Are Back and They're Giving Out Relationship Advice to Our Audience!
100
2020-02-25
It's Always a Party When David Burtka Co-Hosts!
99
2020-02-24
It's Our 'Night Shift' Show and We're Surprising a Night Shift Nurse with a Surprise Makeover
98
2020-02-21
Nick & Vanessa Lachey Talk New Netflix Dating Show + Creamy Chicken & Broccoli Soup
97
2020-02-20
RuPaul Returns + Emeril Lagasse Surprises Incredible Culinary Student Who Survived Stroke
96
2020-02-19
Lazy Winter Comfort Food: Macaroni & Beef Casserole + Chef Scott Conant's Famous Meatballs
95
2020-02-17
Sticky Asian Chicken + Lucy Hale On Her Obsession With Horror Movies
94
2020-02-14
Valentine's Day Dinner & Dessert With "Cake Boss" + Couples Share Their Love Stories
93
2020-02-13
Jason Biggs Talks Being a Dad on TV & In Real Life + Last-Minute Valentine's Day DIY Gifts
92
2020-02-12
Rach's Lemon Pepper Garlic Cheesy Stuffed Chicken + "Survivor" Host Jeff Probst
91
2020-02-10
Jaw-Dropping Makeover With Carson Kressley & Kyan Douglas + Date Night Ravioli For 2
90
2020-02-07
Oscars® Predictions With Comedian Michelle Collins + Winter Skincare Tips From Rach's Dermatologist
89
2020-02-05
Crispy Chorizo & Potato Burritos + Run DMC's Rev Run and Wife Justine Simmons
88
2020-02-04
Bob Harper Dishes On New Season of "Biggest Loser" + Chef Richard Blais' Light Lasagna
87
2020-01-31
Rach's Chicken Tinga Nachos For The Super Bowl + NFL Stars Compete In Cook-Off
86
2020-01-29
David Alan Grier's Brisket + Rach's Brisket Ragu With Rigatoni
85
2020-01-28
Beef Taco Salad + Rach's Adorable Reaction To Surprise Guest Victor Cruz
84
2020-01-27
Jerry O'Connell Dishes On TV and Broadway Gigs + PUPPIES!!
83
2020-01-24
Prodigal Son's Lou Diamond Phillips Cooks With Rach + Doc's Signs You SHOULD Take a Sick Day
82
2020-01-22
The Man, the Myth, the Mogul… Tyler Perry Is Back
81
2020-01-20
Today's Show May Be Mini-Sized, but It's Big on Fun
80
2020-01-17
Game-Day Nachos With a Twist + We Give Away 2 Tix To The Super Bowl
79
2020-01-16
Robin Roberts Dishes On Her Latest Passion Project + Rach's Chicken Pepperoni
78
2020-01-14
Joy Behar Dishes On Her Famous Lasagna + Rachael's No-Pain Lo Mein
77
2020-01-13
Supermodel Emme's Head-to-Toe Makeover For Hard-Working Mom + French Onion Soup
76
2020-01-10
Jennifer Coolidge Talks New Movie "Like A Boss" + Tips For Cutting Housework In Half
75
2020-01-09
Rach's "Divorced Enchilada" Skillet Pie + Potato Chip Crunch Brownies
74
2020-01-08
"Law & Order's" Jeremy Sisto Dishes On "FBI" Role
73
2020-01-07
Rach's Maple Bacon Chipotle Turkey Chili + What's a "Pegan" Diet?!
72
2020-01-06
"Deputy" Star Stephen Dorff
71
2019-12-24
FOUR Holiday Ambush Makeovers
70
2019-12-23
Rach & Denis Leary Ring In Holidays With Firehouse Field Trip
69
2019-12-20
We're Solving Your Holiday Dilemmas
68
2019-12-19
David Muir On His New Dog
67
2019-12-17
Our Best Moments Of The Decade Show
66
2019-12-16
Lea Michele On Why She's Been Celebrating Christmas All Year
65
2019-12-13
Kate Hudson's Pomegranate Sour
64
2019-12-12
Patricia Heaton's Spinach & Cheese Strata
63
2019-12-09
Ian Somerhalder's New Netflix Show
62
2019-12-06
Pint-sized powerhouse Kristin Chenoweth
61
2019-12-05
'The Princess Bride' Star Cary Elwes
60
2019-12-03
Julie Andrews Takes a Walk Down Memory Lane
59
2019-12-02
Gift-Wrapping Tricks With Carson Kressley
58
2019-11-27
Sebastian Maniscalco On 'The Irishman'
57
2019-11-26
Clinton Kelly Gives Last-Minute Thanksgiving Help
56
2019-11-25
Alan Alda On 'Marriage Story'
55
2019-11-22
Matthew Rhys On New Mr. Rogers Movie
54
2019-11-21
'Will & Grace' Star Sean Hayes On Final Season
53
2019-11-20
'SEAL Team' Star David Boreanaz's Favorite Cheat Meal
52
2019-11-19
Oprah's Favorite Things With Her BFF Gayle King
51
2019-11-18
Wilmer Valderrama Plays '2 Truths & a Lie'
50
2019-11-15
Joy Behar On Her Most Talked About 'View' Moments + Chef Geoffrey Zakarian's Thanksgiving Faves
49
2019-11-14
Whoopi Goldberg Is in the House and She's Dishing on Her Line of Sweaters
48
2019-11-13
Thanksgiving Is Coming Up and 'Top Chef's' Gail Simmons Is Throwing Down
47
2019-11-12
Today's Show Is No Snooze, But It Will Help You Get More ZZ's
46
2019-11-11
It Is Veterans Day and We're Heating Things Up
45
2019-11-08
Can Chef Richard Blais Make an Entire Thanksgiving Dinner in Just 60 Minutes
44
2019-11-07
Here's a Show You Can Take for a Spin! Style Expert Zanna Roberts Rassi
43
2019-11-06
We're Cooking Up a Storm with Ginger Zee Today
42
2019-11-05
We've Got a Few Doctors in the House Today! Dr. Oz Is Here
41
2019-11-04
Today's Show Is Full of Firsts! From 'House of Cards,' Michael Kelly Drops by
40
2019-11-01
Edward Norton and His Co-Star, Gugu Mbatha-Raw, Are at the Kitchen Table
39
2019-10-31
Today's Show Is Our Halloween Extravaganza
38
2019-10-30
You Know Her from 'Bridesmaids' the Hilarious Wendi McLendon-Covey is Here
37
2019-10-29
Reid Scott is in the house dishing on his new movie, 'Black and Blue'
36
2019-10-28
Today we're celebrating the 20th anniversary of 'The Sopranos'
35
2019-10-25
Today is our 'Drop by Dinner Party' show
34
2019-10-24
Chris Kimball Is in the Kitchen With Rach Today
33
2019-10-23
Spooky DIY Tips for Halloween
32
2019-10-22
Sunny Hostin on Her New Show – 'Truth About Murder'
31
2019-10-21
Jenny Mollen Is Here Sharing Her Wellness Tips
30
2019-10-18
Gretta Monahan is opening up about her battle with breast cancer
29
2019-10-17
It's our World Series SNACKdown show
28
2019-10-16
Dr. Roshini Raj is opening our 'Medical Mailbag'
27
2019-10-15
Tim Tebow and Rach are cooking up a keto-friendly lasagna dish
26
2019-10-14
Rachael's new book - 'Rachael Ray 50'
25
2019-10-11
Sara Haines and Keke Palmer from GMA3
24
2019-10-10
It's Throwback Thursday as Ted Danson Is Joining Rach
23
2019-10-09
Anchor David Muir Is Here
22
2019-10-08
Chef Curtis Stone Is Rach's Co-Host
21
2019-10-07
Makeover Monday Kicks off with Two Makeovers from Beyoncé's Hairstylist
20
2019-10-04
Henry Winkler Is Joining Rach
19
2019-10-03
Bobby Flay Is In The House
18
2019-10-02
Kim Kardashian's Hairstylist Is Revealing His Favorite Tips
17
2019-10-01
Today's Try It Tuesday - Dr. Drew
16
2019-09-30
Today's Show Has Heart
15
2019-09-27
Today We're Talking Rules-to-Live-By
14
2019-09-26
Chef Jacques Pépin Is Sharing His Foolproof Method
13
2019-09-25
David Burtka Is Back To Co-host With Rachael
12
2019-09-24
It's Try It Tuesday
11
2019-09-23
Taking The Challenge To Live Waste-free
10
2019-09-20
Carson Kressley is giving us an inside look at his home on a farm
9
2019-09-19
Rach's design buddies Nate Berkus and Jeremiah Brent
8
2019-09-18
Jesse Palmer is Rachael's co-host today for a show full of favorites
7
2019-09-17
It's show and tell with HGTV's Property Brothers
6
2019-09-16
The cast of The Brady Bunch is hanging with Rach today
5
2019-09-13
Today We're Taking the Show on the Road
4
2019-09-12
Veep star Tony Hale is Joining Rachael in The Kitchen as Her Sous-Chef for the Day
3
2019-09-11
Rachael chats with Neil Patrick Harris
2
2019-09-10
Get ready to get schooled today
1
2019-09-09
Rachael is back for season 14 with a kick-off party
Season 13
160
2019-08-27
Dr. Ian Smith Is in the House Breaking Down the Dangers of Sitting!
159
2019-08-26
Rach Is Answering Questions From Our Viewers
158
2019-08-21
Being Prepared For the Most Unexpected Situations
157
2019-08-19
Laundry Gadgets Put To The Test
156
2019-08-13
Taniya Nayak; Carter Oosterhouse; Peter Walsh; Mexican Stew with a Twist
155
2019-08-12
Tommy DiDario; Milly Almodovar;John Gidding; Chipotle-Bacon Cheeseburgers
154
2019-07-29
Gretta Monahan; Bob Harper; Making Zucchini Sticks
153
2019-07-23
Dr. Michael Breus; Kelly LeVeque; Rotisserie Chicken Ragu with Bacon and Peas
152
2019-07-22
Lilliana Vazquez; Lauren Makk; No-boil baked ziti with chicken
151
2019-07-19
Dr. Drew Settles 3 Relationship Debates
150
2019-07-15
Clinton Kelly's Summer Party Shortcuts
149
2019-07-04
Learn How To Make An Adorable Alligator Out Of Pineapples + 2-Ingredient Piña Colada Ice Cream Recipe
148
2019-07-01
Rach's Hearty Chicken Soup Features A Good-For-You Grain + Self-Tanning Secrets for Summer!
147
2019-06-14
Emeril Lagasse Is in the House for Our Father's Day Show
146
2019-05-22
Katie Lee's Blender (!!) Pancakes + Kim K.'s Hairstylist Has a Shortcut For Sleek Updos
145
2019-05-21
Can Food Help You Sleep Better? Plus, We Surprise an Adoptive Dad of 7!
144
2019-05-20
The Hottest Celeb-Inspired Swimsuit Trends of 2019 + A Big Surprise For an Inspiring Teen Chef
143
2019-05-17
Craig Ferguson Tells Unbelievable Stories From New Memoir + The Ultimate Surprise For a Military Vet
142
2019-05-16
GQ Insider Gives Dad a Makeover + "Superstore" Star Lauren Ash Pulled a Pregnancy Prank on Her Mom
141
2019-05-15
Akbar Gbaja-Biamila On Being a "Diaper Ninja" + Mom Addicted To Phone Goes 2 Days Without It
140
2019-05-14
Rach's Chipotle Chicken & Black Bean Burritos + A Watermelon Keg?!
139
2019-05-13
Rach & Celeb Friends Take On Denis Leary's FDNY Challenge + Big Surprise For 911 Dispatchers
138
2019-05-10
Rach's White Pizza Frittata + Our First-Ever Celeb Mystery Mom (The Celeb's Kids Give Rach Clues!)
137
2019-05-07
Rach's Pork Chops With Apple Sauce + Peek Inside a Nutritionist's Kitchen & Fashionista's Closet
136
2019-05-06
How Many Rotisserie Chicken Dishes Can Chef Richard Blais Make In 1 Hour? Plus, a $100 Room Makeover
135
2019-05-03
Jenny Mollen Gets Real About Parenting Her 2 Sons With Jason Biggs + Rach's Current Obsessions
134
2019-05-01
Tips On Setting The Perfect Table For Any Dinner Party + Uncomfortable Medical Qs Answered
133
2019-04-30
Rach's Buffalo Chicken Paillard with Blue Cheese Crumbles + How To Actually Rock Mom Jeans
132
2019-04-29
Jennifer Garner On Why She's Saying "Yes" To Everything + DIY Marble Countertops For Under $100
131
2019-04-26
Rachael's Kung Pao Chicken + Peter Walsh's Spring Cleaning Organization Tips
130
2019-04-25
Chefs Curtis Stone + Geoffrey Zakarian Answer Your Food FAQs + Dr. Ian Smith's Oat Milk Recipe
129
2019-04-22
Kate Hudson Dishes On Being A Mom of 3 + Are You Eating At The Wrong Times?
128
2019-04-19
Rach's Spiral Ham + Eggs For Easter! Plus, 2 Leftover Easter Candy Recipe Ideas
127
2019-04-18
Bobby Berk's Design Mistake Fixes + Dr. Ian Smith's 30-Day Eating Plan
126
2019-04-17
Melissa Joan Hart Talks New Netflix Show + Irresistible Nachos
125
2019-04-16
Co-Host David Burtka Brings The Party All Hour Long + Rach's 30-Minute Shrimp Scampi
124
2019-04-15
Surprise Audience Makeover Leaves Rach Speechless + How To Up Your Curb Appeal On The Cheap
123
2019-04-12
Emilio Estevez On His Film 'The Public' + Surprise Birthday Party For an Inspiring Cancer Survivor
122
2019-04-11
Nate Berkus & Jeremiah Brent Settle Design Debates + Chef Richard Blais' Juicy Lucy Burger
121
2019-04-09
Daphne Oz & Hilaria Baldwin Talk Parenting Trends
120
2019-04-04
Dr. Ian Smith is here with anti-aging tips
119
2019-04-02
Elisabeth Hasselbeck; Carson Kressley; Thom Filicia
118
2019-04-01
'30-Minute Meals' is back on Food Network
117
2019-03-29
'Veep' Star - Reid Scott
116
2019-03-28
Rach's Gorgeous New Handbag Line
115
2019-03-27
Double-Duty Makeover
114
2019-03-25
Michael Strahan and Sara Haines are in the house
113
2019-03-18
Gayle King is here revealing details from her exclusive interview with R Kelly
112
2019-03-15
We're celebrating a new season of Trading Spaces on TLC
111
2019-03-14
GQ Insider Tommy DiDario pulls off an amazing transformation
110
2019-03-13
Kristen Bell and Dax Shepard
109
2019-03-12
Chef Emeril Lagasse is in the house today and he's serving up a New Orleans classic
108
2019-03-11
Dr. Ian Smith is schooling us
107
2019-03-08
Buddy Valastro & Duff Goldman
106
2019-03-07
Alysia Reiner; Molly Sims; Emme
105
2019-03-06
Scott Foley Talks Hot New Show
104
2019-03-05
Academy Award Nominee Chiwetel Ejiofor
103
2019-03-01
Tyler Perry is hanging with Rach today
102
2019-02-28
MVP of the kitchen Ayesha Curry is back
101
2019-02-25
Jesse Palmer; Greg Baxtrom; Missy Robbins
100
2019-02-22
Joy Behar - Memories of 20 years on The View
99
2019-02-21
Craig Ferguson; DIY Tricks; Pasta with Chicken and Greens
98
2019-02-20
Country music superstar Trisha Yearwood
97
2019-02-19
Kelsey Grammer; Tim Tebow; Anne Burrell
96
2019-02-18
Travis Stork; Kate Walsh; Bacon Meat Sauce
95
2019-02-15
"Twilight" star Rachelle LeFevre
94
2019-02-14
Donnie Wahlberg is hanging with Rach today
93
2019-02-13
Valentine's Day is tomorrow and we're getting one inspiring mom ready
92
2019-02-11
Chef Curtis Stone is Rachael's co-host
91
2019-02-08
Product Testing - Bob Harper
90
2019-02-07
A Produce Pro and an Expert Butcher share their tips
89
2019-02-04
Buddy Valastro Attempts to Break a World Record
88
2019-02-01
Annual Super Bowl Recipe Playoff
87
2019-01-31
Chef Giada De Laurentiis
86
2019-01-29
Stylist Stacy London
85
2019-01-28
Four Doctors in the House Today
84
2019-01-22
Lindsay Lohan is in the kitchen
83
2019-01-21
Molly Ringwald is here
82
2019-01-18
Four football superfans
81
2019-01-17
Joey Fatone is in the house
80
2019-01-16
Bob Harper is Rachael's co-host today
79
2019-01-15
The original plus-size supermodel Emme
78
2019-01-14
Hottest trends of 2019
77
2019-01-11
Gwyneth Paltrow is here
76
2019-01-10
Alice Eve is hanging at the kitchen table with Rach
75
2019-01-09
Jay-Z's stylist June Ambrose is in the house
74
2019-01-08
Rachael's playing a game of Guess the Guest
73
2019-01-07
Kick off the New Year with a BAM with Chef Emeril Lagasse
72
2019-01-02
We're helping a viewer who lost half her size ring in the New Year
71
2018-12-28
We're counting down our favorite moments of 2018
70
2018-12-24
Chef Emeril Lagasse is Rachael's co-host for the day
69
2018-12-20
Gift-Wrapping Skills
68
2018-12-19
Emily Mortimer Talks 'Mary Poppins'
67
2018-12-18
Christmas is one week away - Go-To Gifts
66
2018-12-17
Two of our favorite bakers are in the kitchen with Christmas cookies
65
2018-12-14
The original "Baby Spice" is in the house!
64
2018-12-12
Join us for our holiday giveaway extravaganza!
63
2018-12-11
Rachael's in the kitchen with her culinary team, and they've got three brilliant ways to serve snacks for a crowd this season
62
2018-12-07
"Cake Boss" Meets Fan Whose Cake Decorating Is Changing Lives + Joan Allen On Her Broadway Return
61
2018-12-06
Did You Know David Alan Grier Is a Foodie? Plus, Rach's Cheese Pumpkin Soup + Grilled Cheese
60
2018-12-05
Patricia Heaton Shares What's In Her Suitcase When She Travels + Potato Latkes for Hanukkah
59
2018-12-04
Rach's Turkey & Stuffing Christmas Meatballs + Is There a Gadget To Help Hang Christmas Lights?
58
2018-12-03
Ron Perlman Reflects On Popularity of "Sons of Anarchy" + Smart Ways to Use Leftover Cheese
57
2018-11-30
Rach's Chicken Cacciatore + "Will & Grace" Star Sean Hayes & Hubby Share New Kids Book
56
2018-11-29
Melissa Joan Hart Dishes on New Christmas Movie + Bread Pudding For Breakfast
55
2018-11-27
Alan Alda Makes 4-Ingredient Pasta Bake + Rach's Chicken Spaghetti Casserole
54
2018-11-26
Dr. Drew Settles Holiday Debates + How Frugal Blogger Makes Extra Cash Online
53
2018-11-21
Ben Stiller Reunites with H.S. Rock Band?! Plus, Rach's Leftover Turkey Club Flatbreads
52
2018-11-20
Gayle King Reveals "Oprah's Favorite Things" of 2018 + 2 Easy Holiday Apps
51
2018-11-19
Thanksgiving Rollover Recipes + Dr. Oz's Secrets to Staying Healthy While Traveling
50
2018-11-16
Holiday Groceries on $100 Budget + What to Buy Each Day of Thanksgiving Week
49
2018-11-15
Jason George Spills On Raising Twins + Plus, Rach's 60-Minute Thanksgiving
48
2018-11-14
30-Minute Pumpkin Mac 'n' Cheese + Magical Makeover For a Deserving Mom
47
2018-11-13
Friendsgiving Recipes: Baked Rigatoni with Pumpkin, Cranberry Upside-Down Cake + More
46
2018-11-12
Michael Strahan Reveals Why He Won't Let Twin Daughters Date + The Healthiest Holiday Spices
45
2018-11-09
Incredible MP Sergeant Makeover + Air Force Vet Sunny Anderson Brings Taste of Home To Military Base
44
2018-11-08
Rach and Hubby John Welcome One of Their Favorite Actors, Michael McKean + Holiday Etiquette Lesson
43
2018-11-07
Rach's Turkey, Stuffing and French Onion Mashed Potatoes + Make-Ahead Chocolate Pecan Pie
42
2018-11-06
Katy Mixon's Double-Duty Tip For Organizing Kids' Rooms + Rach's 30-Minute Thanksgiving Side
41
2018-11-05
David Muir Shares Sweet Letter From Little Fan + Speedy Chicken Pot Pie
40
2018-11-02
Thanksgiving Grocery Game Plan + Make-Ahead Stuffing & Cider Chicken
39
2018-11-01
Rachael's Stir-Fry with Bacon Fried Rice + Are You Putting Your Bra On Wrong?
38
2018-10-31
What Will Rach's Costume Be this Year?! Plus, Spooky Snacks + Celeb Pals!
37
2018-10-30
Skeleton + Unicorn Halloween Makeup Looks! Plus, Former "Star Trek" Star Scott Bakula
36
2018-10-29
What Is Malcolm-Jamal Warner's Family Being For Halloween? Plus, BRAIN Cupcakes!
35
2018-10-26
Rescue Pups Dress Up For Halloween + WWE Stars Ronda Rousey & Nattie Neidhart
34
2018-10-25
Easy "Whole30" Slow-Cooker Meals + We Test a New Way to Clothes Shop Online
33
2018-10-24
Curtis Stone's Cozy Fall Soup & Sammies + What's a Fitness Pyramid?
32
2018-10-23
Carla Hall's Brown Sugar Chicken + 5 Cleaning Mistakes You May Be Making
31
2018-10-22
"The Real" Ladies Write Letters to 13-Year-Old Selves + Rachael's Chicken Schnitzel
30
2018-10-19
Hilary Swank On Her Romantic Wedding In The Woods + Rach's Chorizo & Butternut Tacos
29
2018-10-18
Shark Tank's Barbara Corcoran On How To Make Coach Feel Like First Class + Rach's Oktoberfest Dinner
28
2018-10-17
Taye Diggs Reveals Surprising Favorite Reality TV Show + Viewer Cuts Hair For 1st Time In 8 Years
27
2018-10-16
David Boreanaz On "Buffy" Revival + Instant Pot Meatloaf and Mashed Potatoes
26
2018-10-15
Alec Baldwin Reveals Details About Niece Hailey's Relationship With Bieber + Easy Weeknight Meals
25
2018-10-12
Alfonso Ribeiro On Will Smith's Grand Canyon Bungee Jump + Rach's Tuscan Pot Roast
24
2018-10-11
Rach + Debra Messing Celebrate Their 50th Birthdays by Smashing Piñatas!
23
2018-10-10
Ginger Zee's Genius Tricks For Staying Safe In a Storm + Rescue PUPPIES From Hurricane Florence
22
2018-10-09
Bobby Moynihan Spills On "Star Wars" + Sex Expert Answers Audience's Intimate Qs
21
2018-10-08
Neil deGrasse Tyson On If There's Really Life On Mars + Rach's 3-Ingredient Toasted Cacio e Pepe
20
2018-10-05
Tiffani Amber Thiessen's Short Rib Enchiladas + Rach's Beer Cheese Soup
19
2018-10-04
Rach's Buffalo Fried Chicken Tacos + The ULTIMATE Brownies AND Cake Boss' Cream Puffs
18
2018-10-03
Rach and Bob Harper Play "Who Wants to Be a Millionaire" + Super-Fit Mom of 4 Hilaria Baldwin
17
2018-10-02
Vivica A. Fox *Faces* a Lie Detector Test + Organize Your Pantry Like Mandy Moore's
16
2018-10-01
Michael Weatherly Dishes On His 50th Birthday! Plus, Rach's Bacon-Wrapped Chicken Fingers
15
2018-09-28
Alan Alda Was Approached to Run For Senate? Plus, You Can Make Your Own Broccoli?!
14
2018-09-27
Kate Beckinsale's Avocado Toast With Creamy Eggs + Rach's Chipotle BBQ Chicken Cobb Salad
13
2018-09-26
Camila McConaughey's Healthy Snacks + Rach's Pork Chops With CIDER
12
2018-09-25
Tom Bergeron Dishes On *That* Shirtless Photo + Donuts SIX Ways
11
2018-09-24
How to Recreate Hollywood's Hottest 'Dos + Rach's Chicken Caesar Salad Upgrade
10
2018-09-21
Julianne Moore on Playing An Opera Singer + 5-Ingredient Chicken Wings
9
2018-09-20
Tony Bennett Performs Special Duet, Meatball Sammies + Rach's Zucchini Pasta
8
2018-09-19
Neil Patrick Harris and David Burtka Try Donut Grilled Cheese + The Scoop on New Season of
7
2018-09-18
Farm Animals (Like a Mini Donkey!) + Dr. Oz's Take On The Health Benefits of Honey
6
2018-09-17
Top TV Shows of 2018, This Year's Emmy Awards Giving Suite Bag + Jamie Lee Curtis on "Halloween" Sequel
5
2018-09-14
Actress Shay Mitchell's Bedtime Beauty Routine + Hot Dog CHILI
4
2018-09-13
Sharon Osbourne's Advice to Her 13-Year-Old Self + Fake-Out Healthy Pasta and Brownie Recipes
3
2018-09-12
William Shatner On The Role He Wish He Hadn't Turned Down + DIY Basics Kids Can Do
2
2018-09-11
Ethan Hawke Dishes on New Movie "Blaze" + How to Feed Your Family With $100 a Week
1
2018-09-10
50 Foodie Friends and 50 PUPPIES Surprise Rach For Her 50th Birthday!
Season 12
170
2018-09-07
We Give One Man a Major Hair Transformation + Pork Chops with Mashed Potatoes
169
2018-09-06
Genius Ideas for Making New Meals From Takeout Leftovers + Korean Fried Chicken
168
2018-09-05
Woman Goes From PJs to Sexy Red Dress + Guest Gets a $20,000 Surprise
167
2018-09-04
Get Your Kids to Eat More Veggies + Tricks to Get Out the Door Faster In the AM
166
2018-05-23
Do Priyanka Chopra and New Princess Meghan Markle Still Text? Plus, Coffee Tacos?!
165
2018-05-22
Which Celeb Does RuPaul Want to Trade Places With? Plus, Watermelon Sorbet Sammies + Bruleed Ribs!
164
2018-05-21
Sexy Photo Shoot For a New Mom! Plus, Why Does Brendan Fraser Make Ramen Twice a Week?
163
2018-05-18
Before Tomorrow's Royal Wedding, We're Throwing Our Own — Complete With a Royal Wedding Cake-Off
162
2018-05-17
Our Predictions for the Royal Wedding (Which Is 2 Days Away!) + Dr. Drew Solves YOUR Wedding Dilemmas
161
2018-05-16
Rachael & Her Celebrity Friends Become Firefighters for a Day + Her Italian Roast Chicken
160
2018-05-15
Lara Spencer Mixes Cocktails & Dishes on Her Upcoming Wedding + Organizing Your Backyard for Summer
159
2018-05-14
Jesse Palmer Co-Hosts + "Queer Eye's" Tan France Dresses Your Guy for Summer (With NY Giants!)
158
2018-05-11
Chris O'Donnell Dishes on His Pizza Restaurant + Mom of 3 Gets a Major Makeover
157
2018-05-10
DIY Gifts For Moms, Teachers and Grads + 2 Families Compete For a Trip to Italy
156
2018-05-09
Daphne Oz's Faves For Mother's Day (Like Apple-Caramel Cake!) + Emeril's Grilled Pork Cutlets
155
2018-05-08
The Fiercest Animal Moms + Mom-to-Be Gets the Nursery of Her Dreams
154
2018-05-07
Mom, Actress, Singer + Now Jewelry Designer Christina Milian + 180-lb. Weight-Loss Makeover
153
2018-05-04
Get Meghan Markle's Royal Style — At Any Size + Oscar® Winner Helen Hunt
152
2018-05-03
Churros 3 Ways for Cinco de Mayo + A Stunning Second-Chance Bride Makeover
151
2018-05-02
How to Stretch Your Dollar With Carla Hall's Budget Meals + Chris Kimball's Cheap Gadgets
150
2018-05-01
Talk Show Legends Joy Behar, Dr. Phil + Sally Jesse Raphael Reveal Their Most Memorable Moments
149
2018-04-30
PUPPIES + Race Car Driver Danica Patrick On Retirement + Her BF!
148
2018-04-27
The Smollett Family's Turkey Meatloaf + Health Headlines With Dr. Oz
147
2018-04-26
We're Giving Away Unbelievable Prizes to Our Audience + Rach Makes Garlicky Burgers
146
2018-04-25
An Edible Helium Balloon?! Plus, Brutally Honest Relationship Advice From Ali Wentworth
145
2018-04-24
Former Quarterback Troy Aikman's Health Scare + 10-Minute Tacos
144
2018-04-23
Rach + John Host a Hilarious Game Night With One of America's Funniest Couples!
143
2018-04-20
Can Aisha Tyler Teach Rach How to Do Improv Comedy? Plus, We're Answering Your Breast Questions
142
2018-04-19
Flawless Skin in 3 Weeks?! Our Dermatologist Shows You How It's Done!
141
2018-04-18
Potty Training for Adults? How You've Been Going to the Bathroom All Wrong + Figure-Friendly Snack Swaps
140
2018-04-17
The Hilarious Louie Anderson + CAN an Avocado Stay Fresh in the Fridge for 3 Days?!
139
2018-04-16
Zach Braff Is Trying to Sell Rach Products -- He's Never Seen Before! (LOL) + Dr. Ian's Tips for Summer
138
2018-04-13
How Does Reba Feel About Her Son Being a Race Car Driver? Plus, Fresh Italian Dishes from Giada!
137
2018-04-12
How to Make Your Own Flower Crown + Does Eating "Clean" Mean You Have to Give Up Cheese and Bread?
136
2018-04-10
Rach Bakes with COOKIE MONSTER + Hollywood's Hottest Hairstylist Shows His Secrets
135
2018-04-09
How to Hack Your Grill Into a Smoker + a No-Mess Way to Measure Sticky Ingredients
134
2018-04-06
The 'Trading Spaces' Cast Solves Your Design Dilemmas + Rach's Spring Mac & Cheese
133
2018-04-05
Super-Sized Sweets (Hello, Giant Jelly Donut!!) + 'Sopranos' Alum Michael Imperioli
132
2018-04-04
This Is Us Star Chrissy Metz + The Perm, Scrunchies…. They're Back. Here's How to Rock 'em!
131
2018-04-03
Oscar Winner Tatum O'Neal + Do You Know The *Right* Way To Clean Your Grill?
130
2018-04-02
Design Stars Nate Berkus + Jeremiah Brent On Their Adorable Growing Family
129
2018-03-30
Rach's Easter Menu + DIY Decor, Egg Dyeing and Actor Simon Pegg
128
2018-03-29
Rach and John Go Undercover at NYC's New Spy Museum + The Best Steak For EVERY Budget
127
2018-03-26
Chef Blais Tests a DNA Diet + Rach's Derm's Top Tips for Adult Acne, Dark Spots + More
126
2018-03-21
Rach's Chili Cheeseburgers + How to Turn a Cardigan Into a Backless Top?!
125
2018-03-20
How to Organize Just About Everything in Your House, From Your Closet to Your Garage!
124
2018-03-19
Plus-Size Model Emme Helps You Find Your Confidence + Can These Foods Make You Smarter?
123
2018-03-16
The Real-Life 'Moana' + College Students Go Cookie-to-Cookie In A Spring Bake-Off
122
2018-03-14
Forest Whitaker Talks Major 'Black Panther' Success + Cheeseburger Slab Pie For Pi Day
121
2018-03-13
Milo Ventimiglia On The Season 2 'This Is Us' Finale + Lucy Hale Answers ALL Our Juicy Questions
120
2018-03-12
Grilled Buffalo Chicken Pizza + Dr. Drew Gets *Real* With Relationship Advice For Audience Members
119
2018-03-09
Olympic Ice Dancers Maia & Alex Shibutani (a.k.a. The Shib Sibs) + Emmy Winner Margo Martindale
118
2018-03-08
We're Gearing Up for National Meatball Day With NYC's Meatball King + Rach's Meatball Sammies
117
2018-03-07
'Orange Is The New Black' Star Laverne Cox Gets Glam Tips From Our Audience?!
116
2018-03-06
How to Make 4 Trendy Cakes With The Cake Boss + The Hottest Spring Décor!
115
2018-03-05
We Answer Your Most-Googled Questions: How to Shred Belly Fat, Make $ Fast, Get Pregnant + More
114
2018-03-02
Heather Graham + Easy Party Snacks for the OSCARS® From Daphne Oz
113
2018-03-01
John Cusimano Soars Over NYC (Sort Of) + What Is Swedish Death Cleaning?!
112
2018-02-28
We Help a Curvy Bride Find Her Dream Dress + Mom of 5 Gets a Makeover Redo
111
2018-02-27
3 Sexy Bathing Suit Makeovers + "The View's" Sunny Hostin Makes "Puerto Rican Lasagna"
110
2018-02-26
Cook #LikeABoss With The Most Powerful Women In Food!
109
2018-02-23
Patricia Heaton & Rachael Debut 3 New Recipes + Bob Harper's First Workout Class Since His Heart Attack
108
2018-02-22
Which Kitchen Gadgets Does Chris Kimball Use in His Own Kitchen? + The Hilarious Joel McHale
107
2018-02-21
We're Giving 3 Women HUGE Makeovers + Rachael's Chicken Tacos With an NBA Taste-Tester
106
2018-02-20
"Black Panther" Villain Winston Duke + The Key to Crispy Truffle Fries & Mouthwatering Cheeseburgers!
105
2018-02-19
The Cake Boss Most-Requested Cookie Recipe + Our Audience Puts "The Bachelor" in the Hot Seat!
104
2018-02-16
4 Culinary Rockstars Face Off For a $25K Scholarship + Chefs Gail Simmons and Curtis Stone Judge!
103
2018-02-15
Is It Too Late to Get The Flu Shot? Plus, Rach's Truffle Mac & Cheese (With Bacon)!
102
2018-02-14
Cocktails, Carbonara + Cheetah Cubs with Rach and Her Hubby!
101
2018-02-13
Oprah's BFF Gayle King + Rach's Valentine's Day Burger
100
2018-02-12
The Secret to Sexy Date Night Hair + We Put a Strapless Sticky Bra to The Test!
99
2018-02-09
A Culinary Trip Around the World, International Cold & Stress Remedies and 2 Olympic Legends Face Off
98
2018-02-08
Save $ On Your V-Day Dinner By Knowing These Restaurant Tricks + Rach's French Onion Meatloaf
97
2018-02-07
A Surprise Bachelorette Party for One Viewer (Here in Our Studio!) + Tiffani Thiessen's Hot Chocolate on a Stick
96
2018-02-06
Jackee Harry Weighs in 12 Years After Celebrity Fit Club + Rita Moreno on Her Most Iconic Roles
95
2018-02-05
Sunny's 5-Minute Diner-Inspired Grilled Cheese Creations + a Surprise Audience Member Makeover
94
2018-02-02
Dr. Oz Reveals the Right Way to Eat Our Feelings + David Duchovny … Rock Star?!
93
2018-02-01
NFL Stars Go Head-to-Head In the Kitchen + Man Who's Lost Over 300 Pounds Gets a Makeover
92
2018-01-31
Dr. Ian Gives the Lowdown on the Whole 30 & Keto Diets + Rach Learns How to Meditate (!)
91
2018-01-30
Beth Stern Brings the Kitten Bowl to Us + Could SNAIL SLIME Be the Secret to Flawless Skin?
90
2018-01-29
Ann Curry Gives Us the Scoop on Her TV Comeback + What's Your Cold & Flu IQ?
89
2018-01-26
2018 Home Trends With HGTV's Property Brothers + Grammies Compete to Go to the Grammys
88
2018-01-25
The 3 Common Kinds of Belly Bulges — and How to Shrink Them! Plus, Maple-Mustard Pork Chops
87
2018-01-24
Tacos That Pack a Punch From Laila Ali + Upgrade Your Look With Easy Tips From a
86
2018-01-23
Who Will Win Our 5th Annual Fantasy Foodball Cook-Off — Team Patriots, Jaguars, Eagles or Vikings?!
85
2018-01-22
Valerie Bertinelli Cooks Comforting 1-Skillet Suppers + Rach Rocks UNstuffed Shells
84
2018-01-19
The BLT of Your Dreams + Are We Swimming with Sharks?! Kind Of!
83
2018-01-18
Would YOU Try Charcoal Lemonade? Plus, "The Post's" Matthew Rhys on Working with Spielberg!
82
2018-01-16
Binge-Watching Party Bites + You Can CLEAN Cleaning Products?!
81
2018-01-15
Rach's Buffalo Chicken Grilled Cheese + Magnetic Slime!
80
2018-01-12
Game-Day Party Food + People Mag's 'Half Their Size' Success Stories
79
2018-01-11
Our Experts Reveal 3 Items They Can't Live Without -- from DIY to Organizing to the Kitchen!
78
2018-01-10
Curtis Stone's Speedy Stir-Fry + a Philly Cheesesteak Twist!
77
2018-01-09
2 Hilarious Sisters Taste Trendy Desserts + 2018 Health Trends
76
2018-01-08
Get a Behind-the-Scenes Look at Our Show + Rach's Bacon Rigatoni!
75
2018-01-05
Confessions of a Celebrity Dermatologist + The New Detox Plan That's All About Eating!
74
2018-01-04
Biggest Loser's Bob Harper Gets You Fit for 2018 + We're Making Over 1 of NY's Finest
73
2018-01-03
2018's Hottest Health & Beauty Trends + Super Carbs That Can Help You Lose Weight?
72
2018-01-02
How to Stave Off a Cold, Redo a Room, Even Lose Weight in 24 Hours
71
2017-12-25
We've Got the Top Holiday Tips of all Time from Some of Our Favorite Pros!
70
2017-12-22
Rach and Her Husband, John, Are Rolling Out Holiday Cheese Balls -- Including John's Smoky Bacon Whiskey Cheese Ball!
69
2017-12-21
We're Giving One Woman Who's Headed Home for the Holidays a Head-to-Toe Makeover ... so She Can Flaunt Her Figure That's 60 Pounds Thinner!
68
2017-12-20
We're Meeting One Cool Culinary Crew: The Guys From Ghetto Gastro! They're Cooking Up Dinner With a Cocktail! Plus, GMA's Ginger Zee
67
2017-12-19
Chef Curtis Stone Is in the House -- and He's Cooking Up a Hearty Winter Dinner With Stuffed Peppers and Sangria!
66
2017-12-15
People Magazine Editorial Director Jess Cagle Is Here to Help Us Count Down the Magazine's Top Stories of 2017
65
2017-12-14
Ayesha Curry Is in the Kitchen Today, and She's Baking Up Two Sweet Treats -- Including Her Family's Favorite, Bananas Foster!
64
2017-12-13
We're Getting Our Party On With Bite-Sized Treats for Your Holiday Bash ... Including Lasagna Cupcakes!
63
2017-12-12
Two-Time Grammy Winner Jason Mraz Is in the House Today! He's Serenading Us With Two Hit Songs
62
2017-12-11
It's Our First-Ever Secret Santa Show: a Surprise Chef Is Stopping By and Handing Out Gifts for Our Audience All Hour Long!
61
2017-12-08
The Great Christmas Light Fight Hosts Carter Oosterhouse & Taniya Nayak Go Tip-to-Tip With Their Best Holiday Décor Fixes!
60
2017-12-07
Rene Russo Is Hanging With Rach, and She's Dishing on Her Hilarious New Movie, Just Getting Started! Plus, Chef Jacques Pepin
59
2017-12-05
The Holidays Are Here and We've Got a New Human Lab! Three Viewers Test Gadgets That Claim To Help You Save Time on Everything
58
2017-12-04
Patricia Heaton Is Here, and She's Giving Us the Scoop on the Final Season of The Middle!
57
2017-12-01
When News Calls, He Answers: ABC's World News Tonight Anchor David Muir Is Back!
56
2017-11-29
The Queen of Comedy Is Back: Carol Burnett Is Here! And We're Celebrating 50 Years of Laughs From Her Iconic Show!
55
2017-11-28
We're Stretching Your Buck With Our Bottom of the Jar Show! Rach's Hubby John Is Shaking Up Cocktails With the Last of Three Pantry Staples!
54
2017-11-27
It's a Full House Today: Bob Saget Is Here! And Rach Is Challenging Him to a Hilarious Guessing Game, Stump the Saget!
53
2017-11-22
How to DIY Copper Wire Tree Centerpieces + Cranberry Art + Winter Terrarium + More!
52
2017-11-21
The Holidays Are Right Around the Corner, and That Means Oprah's Favorite Things Are Back!
51
2017-11-20
Happy Thanksgiving! Rach Shows How to Carve a Turkey + Takes Trip to Thank Troops In Person
50
2017-11-17
The Hilarious Anthony Anderson Is Back, and He's Cracking Us Up at the Kitchen Table!
49
2017-11-16
The Great Whoopi Goldberg Is Hanging With Rachael Today! Plus, We're Trying Out One of the Latest Dessert Trends: Slab Pies!
48
2017-11-15
It's Our Problem Solvers: Thanksgiving Edition! Organizing Pro Peter Walsh and Chef Richard Blais Have Your Back With Their Best Tips
47
2017-11-14
Daphne Oz Is in the Kitchen, Fancying Up Your Store-Bought Pumpkin Pies With Easy, Decadent Toppings Like Chocolate and Caramel!
46
2017-11-13
It's Our First-Ever Thanksgiving Coupon Cook-Off! Chefs Anne Burrell and Jet Tila Team Up With Two Couponing Experts
45
2017-11-10
'DailyMailTV' Host Jesse Palmer Is Rachael's Co-Host for the Day! They're Joined by Chef Christopher Kimball
44
2017-11-09
Shemar Moore (*Swoon*) + Brown Butter-Oatmeal Cookie Ice Cream Sandwiches
43
2017-11-08
Trying to Get a Better Night's Sleep Tonight? A Tired Mom, a Restless Sleeper, and Even a Sleep Eater Are Testing Out Gadgets
42
2017-11-07
The Incredible Kate Hudson Is in Rachael's Kitchen Today, and She's Cooking Everything You Need for the Best Taco Night Ever!
41
2017-11-06
What Would You Do If Jessica Alba Showed Up at Your Door and Asked to Clean Your House?!
40
2017-11-03
Our Foodie Pals Share Their Favorite Restaurants Across the Country + Rachael Makes Green Eggs & Steak
39
2017-11-02
The Lovely Debra Messing Is Back, and She's Dishing on the New Season of Will & Grace
38
2017-11-01
We're Getting Our Party On, All Hour Long! Sunny Anderson Throws a Football Feast With Her Crowd-Pleasing Chili!
37
2017-10-31
Rach and Her Husband, John, Are King and Queen of Our Medieval Kingdom for Halloween!
36
2017-10-30
Get Ready to Laugh Out Loud: Denis Leary Is Back, and Our Audience Puts Him in the Hot Seat With Rapid-Fire Questions!
35
2017-10-27
We've Got an Oscar Winner in the House Today: Julianne Moore Is Here, and She's Giving Us a Look Inside Her New York City Home!
34
2017-10-26
Rachael Celebrates Her 2,000th Show Today With Help From Oprah Winfrey! The Legendary Talk Show Host Kicks Off an Hour Packed With Surprises
33
2017-10-25
Alfonso Ribeiro From America's Funniest Home Videos Is in the House, and He's Putting Rach to the Test in a Classic AFV Game!
32
2017-10-24
Valerie Bertinelli Is in the Kitchen With Three Super-Easy Slow Cooker Dishes, Like Sloppy Joes and a Pasta Bake!
31
2017-10-23
She's an Actress, Author, and Now a Clothing Designer: Gabrielle Union-Wade Is Hanging With Rachael Today!
30
2017-10-20
Cook, Shop, and Celebrate Like an Italian Today! We're Serving Up Favorite Dishes and Twists on the Classics
29
2017-10-19
What Are the Three Most Important Questions to Ask at a Job Interview or at Your Doctor's Office? We've Got Experts in the House
28
2017-10-18
Start Your Day With Breakfast From Chef Rocco DiSpirito – He's Serving Up a Healthy Bacon, Egg and Cheese!
27
2017-10-17
Today's Show Is All About Binge-Watching – And We're Kicking Things Off With the Star of One of TV's Biggest Hits!
26
2017-10-16
We're Showing You How to Save Big Bucks on Everything From Food to Fashion! Eat Healthy Without Being Wealthy
25
2017-10-13
We're Counting Down 5-4-3-2-1 With Recipes You Need to Know; Rachael Kicks Things Off With a Two-for-One, Five-Ingredient Pasta Dish
24
2017-10-12
The Hilarious Whitney Cummings Is Back, With the Scoop on Her New Book; Ideas for Leftover Materials from Your DIY Projects
23
2017-10-11
Football Season Is Here - So We Went to the Home of the Philadelphia Eagles to Taste Their Best Game Day Grub
22
2017-10-10
She's Back and Slaying it in the Kitchen - Sarah Michelle Gellar Helps One Viewer Turn Baking Blunders Into Wonders; Kitchen Tools
21
2017-10-09
Why Did Anthony Anderson Order a Piano On His Mom's Card?! Plus, Rach's Pasta With Smoky Eggplant Sauce!
20
2017-10-06
Regis Philbin Is Rach's Co-Host + Who's Cooking Up "Jewish Spaghetti"?
19
2017-10-05
'Madame Secretary' Star Keith Carradine + We Give One Rocker a MAJOR Pre-Wedding Makeover
18
2017-10-04
Jussie Smollett from the Hit Show, 'Empire' is Back
17
2017-10-03
Queen Latifah is in the House
16
2017-10-02
Three Women - Who Look 10, 20, or Even 30 Years Younger Than Are Really Are
15
2017-09-29
They're No New Kids to Our Show - 'Blue Bloods' Star Donnie Wahlberg and His Better Half, Jenny McCarthy, Are Here!
14
2017-09-28
We Have an Oscar Winner in the House Today – The Legendary Catherine Zeta-Jones!
13
2017-09-27
He's a Three-Time Grammy Winner...Music Legend Wyclef Jean Is Here and We're Celebrating His New Album!
12
2017-09-26
It's a Battle of the Ages! Dr. Oz and His Daughter Daphne Square Off in a Foodie Tip-Off
11
2017-09-25
Jake Gyllenhaal Is at Rach's Kitchen Table for the First Time! He's Here With the Inspiring Real-Life Star of His New Movie
10
2017-09-22
It's a Whole Hour of Do-Overs! Can Chef Ryan Scott Redeem Himself After a Customer's Bad Yelp Review?!
9
2017-09-21
Two Amazing Kid Chefs Square Off in a Big Chef/Little Chef Showdown!
8
2017-09-20
We're Playing Show and Tell With Rachael's Co-Host, Nate Berkus!
7
2017-09-19
DIY Tips From 'Property Brothers'+ Rach Puts Pizza Toppings on Spaghetti
6
2017-09-18
Sink Your Teeth Into This ... It's National Cheeseburger Day, and Eva Longoria Shows Rach How She Builds Her Perfect Burger!
5
2017-09-15
The Primetime Emmy Awards Are This Sunday - and "The Chew's" Clinton Kelly Pulls Off a Red-Carpet-Worthy Makeover for One Woman
4
2017-09-14
Rach and Chef Curtis Stone Are Cooking Up an Hour's Worth of Winner Winner Chicken Dinners!
3
2017-09-13
Rach and "DailyMailTV" Host Jesse Palmer Get Ready for Gameday With a "Gridiron Grill-Off" Cooking Challenge!
2
2017-09-12
Buckle Up for Our Biggest Hour of Surprises Yet! To Kick Things Off, Rach Unveils Her Brand-New Kitchen
1
2017-09-11
Dr. Ian Smith Is Back With an All-New Human Lab - He's Helping Our Viewers Test Products
Season 11
170
2017-07-04
Rachael and Her Hubby, John, Kick Off 4th of July With a Red, White and Blue Cocktail
9
2017-04-21
The Legendary Jacques Pepin Is in the Kitchen Today, and He's Making a Spicy Chicken Dish!
8
2017-04-19
Craving Italian Food?! Get Ready for a
7
2017-04-17
Looking for Weight Loss Inspiration? We've Got an Hour Filled With Can't-Miss Stories!
6
2017-04-14
We're Kicking Off Easter Weekend With Chef Anne Burrell and Chef Marc Murphy - They Square Off in a Holiday Feast Cook-Off
5
2017-04-13
Want to Rock a Rich Lifestyle on a Budget?! Three of YouTube's Biggest Stars Are Showing You How
4
2017-04-12
We Are Mad About Her...Oscar Winner Helen Hunt Is Back, Talking About Her New Hit Show!
3
2017-04-11
Surprise! Our Pal Clinton Kelly Is Hitting the Streets and Ambushing Unsuspecting New Yorkers With Spring Makeovers!
2
2017-02-24
We're Spending the Entire Hour With Some Very Special Storytellers
1
2017-02-23
The Oscars Are This Weekend
Season 10
163
2016-04-29
Stacy London Teams Up With 'Hamilton' Star Lin-Manuel Miranda to Make Over His Mom's Cluttered Closet!
162
2016-04-28
Incredible Hairy Man Makeovers, David Duchovny Dishes Out Dating Advice & Philly-Style Hoagies
161
2016-04-27
Andy Cohen Plays 'Plead the Fifth' & YouTube Sensation Audrey Dances With the Brooklynettes!
160
2016-04-26
Slimdown Secrets From Bob Harper & His Former 'Biggest Loser' Contestants! Plus, Rach's Soup & Sammie Night
159
2016-04-25
The 3 Best Bras You've Never Heard Of! Plus, 'Human Lab': Hair Styling & Sliced Steak Salad
158
2016-04-22
Ice Cube Reveals His Hidden Talent! Plus, Rach's Pulled Beef Chili Sloppy Joes
157
2016-04-21
'Strong' Host Gabrielle Reece Dishes Out Fitness Advice! Plus, Learn How to Eat for Your Body Type
156
2016-04-20
Mally Roncal's Twin Makeover! Plus, Nothing Is Off-Limits When Dr. Drew Answers Viewers' Sex Questions!
155
2016-04-19
Legendary Chef Jacques Pépin, His Daughter and Granddaughter Share Their Family Recipes
154
2016-04-18
Our Family Tip-Off Show! Plus, the 'Pizza Cuz' Guys Reveal the Best Way to Cook Frozen Pizza
153
2016-04-15
Gwyneth Paltrow's Chicken Enchiladas & What You Should Do With Your Tax Refund!
152
2016-04-14
Peter Walsh's Organizational Hacks! Plus, DIY Furniture Upgrades & Rach's Bacon-y Twist on Meatloaf
151
2016-04-13
Rachael's BLT Frittata! Plus, 'The Odd Couple's' Thomas Lennon & a 'Freaky Friday' Makeover
150
2016-04-12
Kelly Rowland, Times Square Surprise Makeovers & Skillet Desserts Are Back!
149
2016-04-11
Bob Harper's Workout Routine, Auto Shop 101 & a Butcher's Guide to the Meat Department
148
2016-04-08
Dr. Youn's Anti-Aging Treatments for Stubborn Wrinkles and Sunspots & 'Star Wars' Iconic Duo R2-D2 and C-3PO!
147
2016-04-07
Two Words: Cameron Diaz! Plus, How to Create Your Dream Home on a Budget With HGTV's 'Property Brothers'!
146
2016-04-06
Can Rach and Anne Burrell Help the 'Worst Cooks in America' With a Burger Boot Camp?
145
2016-04-05
Basketball Power Couple Steph and Ayesha Curry! Plus, Kate Bosworth's Shrimp Scampi
144
2016-04-04
Our 'Grand Slam Showdown' Is in Full Swing With Two MLB Legends & Rach's Detroit Coney Dogs!
143
2016-04-01
April Fools' Day With Debra Messing & Geoffrey Zakarian! Plus, Fool-Proof Cleaning Tips
142
2016-03-31
Mindy Kaling, Richard Blais' 60-Second Snacks & a Man Bun Makeover!
141
2016-03-29
Lauren Conrad's DIY Margarita Bar, Daym Drops Attends Etiquette School & a Miracle Makeup Makeover
140
2016-03-28
Fabio Viviani's Short Rib Lasagna, Full-Figured Makeovers & The Harlem Globetrotters
139
2016-03-25
Our Easter Egg-O-Rama With Ginger Zee & 5 All-New Deviled Egg Recipes
138
2016-03-24
SNL's Jay Pharoah, Kristin Chenoweth & Emeril Lagasse's Late Night Bologna Snacks
137
2016-03-23
A Full Hour of Spring Cleaning Tips With 'The Problem Solvers'! Plus, a Healthy Chicken Teriyaki
136
2016-03-22
Pantry Police With Ted Allen, Chic Double-Duty Décor Tips & Garlic Bread Chicken Nuggets!
135
2016-03-21
Our 'Bracket, Lunch and Dinner Cook-Off'! Plus, Can You Lose 15 Pounds in 3 Weeks?
134
2016-03-18
Meet Chef Curtis Stone's Brother – and Their Steaks on a Budget! Plus, WWE Star Stephanie McMahon
133
2016-03-17
Our St. Patrick's Day Party With Chocolate Guinness Cake, Soda Bread & Beer-Battered Sammies!
132
2016-03-16
Bob Harper's Grocery List! Plus, Tori Spelling's Spring Party Tips & Cedric the Entertainer
131
2016-03-15
Dr. Phil Takes Over Rach's Kitchen! Plus, Laila Ali and 'Chicago P.D.'s' Sophia Bush
130
2016-03-14
4 DIY Medical Tests You Need to Do Now! Plus, a 6-Minute Chicken Alfredo?!
129
2016-03-11
Maria Menounos' Figure-Friendly 'Burger' & a Make-Your-Own Potato Chip Maker!
128
2016-03-10
Our Little Italy Pasta Throwdown! Plus, Angie Harmon & Rach's Baked Ziti
127
2016-03-09
What If You Could Predict How You Were Going to Age?! Dermatologist Dr. Anne Chapas Checks in With a Test
126
2016-03-08
It's Home Cooking 101 With Sara Moulton! She's Showing Us Easy Tricks to Make Our Dishes Taste Better
125
2016-03-07
She's the Star of "Orange Is the New Black" – Laura Prepon Is Here, and She's Cooking Up Two Dishes From Her New Cookbook!
124
2016-03-04
'Once Upon a Time's' Ginnifer Goodwin & Dr. Travis Stork's 5 Fixes for the Dreaded Cough
123
2016-03-03
Grab Your Fellas, Because Our Barbershop Is Open for Business! We're Using Classic Haircuts for Three Man Makeovers!
122
2016-03-02
Dr. Ian Gives Rach an On-Air Checkup & Can One Technology-Obsessed Family Survive a 'Tech Timeout'?
121
2016-03-01
Inside Oprah's Closet, Peter Walsh Organizes Deborah Norville's NYC Home & Mushroom Bourguignon
120
2016-02-29
Clinton Kelly's Bite-Sized Eats, 2-Ingredient Desserts & a Shoebox-Sized Home Makeover
119
2016-02-26
Our 'Awards Show Party' With Chef Michael Symon, 'Spotlight's' Billy Crudup & 'Creed's' Tessa Thompson
118
2016-02-25
Rach's Bowling Party With Craig Ferguson, Rick Springfield, Smothered Tots & Beer Cheese Nachos!
117
2016-02-24
A Special Message From First Lady Michelle Obama! Plus, Chef Anne Burrell Reveals How She Does That Hair!
116
2016-02-23
Michael Strahan, Our 'Burger Bash' Competition & Carla Hall Is Throwing Down Fries 3 Ways
115
2016-02-22
Our 'Snow Day' Show With Kate Hudson, Jesse Palmer & TLC's Cake Boss!
114
2016-02-19
Here Comes the Bride – Our 'Wedding in a Week' Finale! Plus, Meet Rachael's Sister, the Baker & Kiefer Sutherland
113
2016-02-18
'Scandal's' Katie Lowes, a Wedding Cake Competition & Dr. Travis Stork's Important Information About the Zika Virus
112
2016-02-17
'Race' Star Stephan James! Plus, Peter Walsh & John Gidding Go to a Viewer's House… in a Box?!
111
2016-02-16
TLC's Randy Fenoli Helps Our Bride Choose Her Gown! Plus, Malcolm-Jamal Warner & 'Brain Games'!
110
2016-02-15
'Wedding in a Week' Kicks Off With an Epic Surprise Proposal! Plus, Brandy Norwood!
109
2016-02-12
Rachael's Romantic Valentine's Day Brunch, Chef Fabio Viviani & 'Zoolander 2's' Christine Taylor
108
2016-02-11
We Reveal the Hidden Talents of 'Scandal's' Joe Morton, Celeb Trainer Shaun T… and Rach?!
107
2016-02-10
Regis, an Exclusive Sneak Peek Inside Nate Berkus' NYC Pad & His Top Design Tips
106
2016-02-09
Why are Rach & John in Handcuffs? Plus, Jerry O'Connell & Rachael's New Favorite Pasta Supper
105
2016-02-08
Curtis '50 Cent' Jackson, a Surprise for New York's Subway Hero & a Family Reunion 37 Years in the Making
104
2016-02-05
Four NFL Players Go Head-to-Head in Our 'Super Bowl Recipe Playoff' & a Game Day Sloppy Joe Bar
103
2016-02-04
A Throwback Thursday Event! Our Tribute to '$40 a Day,' 'Emeril Live' & 'Clean Sweep'
102
2016-02-03
The 3 Best Bras You've Never Heard Of! Plus, Sunny Anderson & Kym Whitley
101
2016-02-02
Tim Gunn's Groundhog Day Makeover & We're Bringing Back Tuna Casserole
100
2016-02-01
Our 'Top Tips of All Time' Show
99
2016-01-29
'Grease: Live' Stars Julianne Hough & Aaron Tveit! Plus 3 Sock Hop Sip Cocktails
98
2016-01-28
Our 'Not-So-Newlywed Game' With Al Roker and Deborah Roberts & Brunch 3 Ways With the 'Cake Boss'
97
2016-01-27
Can Wolfgang Puck Teach Jillian Michaels How to Cook? Plus, an Italian Skillet Supper!
96
2016-01-26
The Property Brothers' Snowed-In Tip-Off & Rach's 30-Minute Pork Chop Supper
95
2016-01-25
Bob Harper's 3 Skinny Meals! Plus, 'Shark Tank's' Daymond John Pitches… a Boozy Bra?!
94
2016-01-22
Our 'Fantasy Foodball' Cook-Off! Plus, Rev Run, Tyrese & Whitney Cummings!
93
2016-01-21
'Human Lab': BBQ Edition, Colin Hanks & Jaw-Dropping Hacks to Save Time
92
2016-01-20
Dr. Travis Stork's Cold and Flu Season Survival Guide & a One-Pot Winter Stew
91
2016-01-19
Our Game-Day Game Plan with Jesse Palmer, Ryan Fitzpatrick & Mac 'n Cheese Tacos
90
2016-01-18
'Pretty Little Liars' Star Shay Mitchell Meets Some Pretty Little Critters! Plus, a Pot Pie in a Pocket
89
2016-01-15
Heather Graham, Stacy London & 2016's Top Hair Trends - Revealed!
88
2016-01-14
Why Is Rach Riding a Mechanical Bull?! And Who Will Win Our 5-Alarm Firefighter Cook-Off?
87
2016-01-13
5 Life-Changing Kitchen Hacks with Christopher Kimball & Rach's Bacon Twist on Meatloaf
86
2016-01-12
Richard Blais, Gretta & HGTV's 'The Cousins' Solve Your Biggest DIY Disasters
85
2016-01-11
Curtis Stone's Sexiest Dessert Yet & The Very Sexy La La Anthony
84
2016-01-08
3 'Don't Blow Your Diet' Meals for Breakfast, Lunch and Dinner & an Awards Show Tip-Off!
83
2016-01-07
The Top 5 Diet Myths of 2016 & 3 Apps That Can Save Your Life!
82
2016-01-06
Can These 10 Foods Help You Lose 10 Pounds? Plus, Clinton Kelly's Décor Hacks
81
2016-01-05
3 One-and-Done Dishes … with Zero Cleanup!
80
2016-01-04
A Slimmed-Down Mac 'n Cheese & A No-Fail Haircut for Any Age
79
2016-01-01
An 80th Birthday Celebration for the Legendary Chef Jacques Pépin
78
2015-12-31
Stacy London, Anne Burrell & Genevieve Gorder Plan Your New Year's Eve Party
77
2015-12-30
Celebrate 10 Seasons of Rach with Emeril Lagasse & a Full Hour of Surprises
76
2015-12-29
3 Ways to Look Like Jessica Alba & Human Lab: Celebrity Edition!
75
2015-12-25
We're Bringing the 12 Days of Christmas to Life with 5 Surprise Proposals & 3 New Fruit Cakes
74
2015-12-24
Our Christmas Eve Show with The Cake Boss, Ayesha Curry & Rach's Christmas Pasta
73
2015-12-23
Debi Mazar's Holiday Pasta & No-Bake Christmas Cookies
72
2015-12-22
3 Showstoppers for Your Holiday Potluck & Can a Purple Smoothie Save Your Holiday Diet?
71
2015-12-21
Our 'Christmas Around the World' Show with Curtis, Nigella & the Irish Rachael Ray!
70
2015-12-18
Would Bill O'Reilly Ever Run for President? Plus, How to Save Big Bucks on Your Holiday Gifts
69
2015-12-17
4 New Ways to Make Holiday Ham & The Wrapping Tips You Need to Know
68
2015-12-16
Last-Minute Holiday Fixes with Nate Berkus, Mally Roncal, and Peter Walsh
67
2015-12-15
3 One and Done Holiday Sides & an All-New Chicken Dish You Need to Try!
66
2015-12-14
Trisha Yearwood's Crowd-Pleasing Holiday Snacks and Rach's White Pizza Frittata!
65
2015-12-11
Clinton Kelly's Make-Your-Own Ornaments & Rach's Chianti Twist on a Classic Pasta
64
2015-12-10
Katie Holmes, Ricky Schroder & Potato Latkes for Hanukkah!
63
2015-12-09
'Modern Family' Star Jesse Tyler Ferguson & Holiday Decor from a Dollar Store!
62
2015-12-08
4 Holiday Gadgets with Christopher Kimball & 3 Party Dresses Every Woman Can Wear
61
2015-12-07
'Scream Queens' Star Oliver Hudson & a Jaw-Dropping Holiday Man Makeover
60
2015-12-04
3 Holiday-Themed 'Snacktivities' & a New Twist on Turkey Burgers From Rach
59
2015-12-03
Rach's HUGE Challenge for Jane Lynch & the Cutest Kittens You'll See This Holiday
58
2015-12-02
Rach's 5-Ingredient Steak, Katie Lee's 4-Ingredient Soup & a One-Ingredient Dessert
57
2015-12-01
4 Make-Ahead Holiday Dishes & Peter Walsh De-Clutters Your Holiday Decorations
56
2015-11-30
Rach's First Ever Viewer Co-Host, Regis Philbin & 5 Must-Have Tips for Cyber Monday
55
2015-11-27
Sunny Anderson, Richard Blais & Jeff Mauro Are Turning Your Thanksgiving Leftovers into 3 New Meals
54
2015-11-26
Curtis Stone's Carve-Along, Robin Roberts & a $5 Thanksgiving Dinner
53
2015-11-25
Rach Is Taking the Show on Location for an Unforgettable Thanksgiving Surprise
52
2015-11-24
Rach's No-Fail Gravy, Anne Burrell's Turkey-Carving Crash Course & Candace Cameron Bure
51
2015-11-23
We're Throwing an Italian Thanksgiving Party with 9 New Recipes & Tony Bennett!
50
2015-11-20
Can We Find a Sweetie for TV's Sweetie Pie?! Plus, Oscar Winner Patricia Arquette!
49
2015-11-19
'Scandal's' Scott Foley & Rach's Leftover Turkey Poppers
48
2015-11-18
Sunny Anderson Tries to Slow Cook a Turkey! Plus a 'How to Get Away With Murder' Star
47
2015-11-17
Our Deep Fried Thanksgiving Party & 3 Thanksgiving Pie Problems – Solved!
46
2015-11-16
Susan Lucci's Foxy Grandma Makeover & 7 Figure-Friendly Thanksgiving Recipes
45
2015-11-13
Rach's Surprise Friendsgiving Party with Emeril Lagasse, Carla Hall & Jeff Mauro
44
2015-11-12
Michael Symon's 5-Ingredient Thanksgiving Sides & a Jumbo Jets-Sized Surprise for Rach
43
2015-11-11
Nate Berkus' Top 5 Tips of All Time & a 'Blue Bloods' Star Cooks with Rach
42
2015-11-10
Thanksgiving 'Mash'-Ups with Curtis Stone & Peter Walsh De-Clutters One Viewer's Storage Unit
41
2015-11-09
Gayle King Unveils Oprah's Favorite Things & Can Ryan Scott Cook Thanksgiving Dinner in 60 Minutes?
40
2015-11-06
Your Top 3 Thanksgiving Questions - Answered! Plus, Peter Walsh's Genius Cleanup Tips & Rach's Stuffed Cabbage
39
2015-11-05
Leah Remini, A Day in the Life with Stacy London & Rach's Meatball Supper
38
2015-11-04
An Iconic TV 'Mystery Taster' & You Won't Believe the Advice Dr. Drew Gives 'On the Spot'
37
2015-11-03
Stacy London, Anne Burrell & Genevieve Gorder Help You Plan the Perfect Party
36
2015-11-02
A Cupcake Showdown with '2 Broke Girls' & Suze Orman Cleans Up Your Debt
35
2015-10-30
Our Biggest Halloween Surprise Show Yet with 2 Mystery Trick-or-Treaters & A Spooky Steak Supper
34
2015-10-29
'Burnt' Star Sienna Miller & a Meatball Party with Rocco DiSpirito
33
2015-10-28
'American Horror Story: Hotel' Star Sarah Paulson & Our Super-Affordable Halloween Costume-Off
32
2015-10-27
Our Italian Essentials Show with The Cake Boss, Fabio Viviani & Rach's Lasagna Lesson
31
2015-10-26
'Rizzoli & Isles' Star Angie Harmon & Our First-Ever Little Italy Showdown
30
2015-10-23
A Date-Night Chicken Dinner with Dr. Oz and His Wife & Can Our Foodie Magician Trick Rach?!
29
2015-10-22
Amanda Peet, Rach's Game-Day Chili Dog Potato Skins & Adorable Animals Every Football Fan Will Love
28
2015-10-21
Queen Latifah & the Doctors Are In for Our 'Human Lab': MD Edition
27
2015-10-20
Our Wine & Food Party with Scott Conant, Katie Lee, Valerie Bertinelli & Rach's Beef Milanese
26
2015-10-19
Michael Strahan's 'Man-Over' & a Mind-Blowing Chicken and Pastrami Burger!
25
2015-10-16
'Blue Bloods' Star Tom Selleck & Chili 3 Ways
24
2015-10-15
Whoopi Goldberg & the Return of Our Snack Stadium Smackdown!
23
2015-10-14
Candy Apple Palooza with Julie Andrews & Richard Blais! Plus, Rach Turns into a Cartoon?!
22
2015-10-13
Shay Mitchell, Kellie Pickler & 3 New Twists on Fall Classics
21
2015-10-12
Our Columbus Day Party with Sherri Shepherd, Sarah Michelle Gellar & a 5-Ingredient Spaghetti
20
2015-10-09
Bologna-Palooza with Co-Host Emeril, Kristin Chenoweth & SNL's Jay Pharoah
19
2015-10-08
Sammy Hagar's French Toast, Rach's Bacon-Cheese Quesadillas & Boozy Popsicles?!
18
2015-10-07
Life-Sized Rock, Paper, Scissors with Whitney Cummings & the Little Zumba Girl Who Will Steal Your Heart
17
2015-10-06
We're Throwing Chef Jacques Pépin a Surprise 80th Birthday Party
16
2015-10-05
Can Peter Walsh Declutter a Family of 10?! Plus, Bobby Flay's 3 Mind-Blowing Brunch Faves
15
2015-10-02
Clinton Kelly's Online Dating Makeover & 'Good Morning America's' Amy Robach
14
2015-10-01
Our Lazy Entertaining Party with NASCAR's Jeff Gordon, Newlywed Nikki Reed & Rach's Creamy Corn Dip!
13
2015-09-30
Ann Romney's Healthy Smoothie & Chicago P.D.'s Sophia Bush
12
2015-09-29
Pantry Police with Ted Allen & We're Turning One Box of Brownie Mix into 5 Delicious Treats!
11
2015-09-28
David Muir & Buffalo Bacon Corn on the Cob?!
10
2015-09-25
Jessica Alba's Makeup Makeovers & Stacy London Takes on Our Human Lab
9
2015-09-24
Basketball Power Couple Steph and Ayesha Curry & Kate Bosworth's Shrimp Scampi
8
2015-09-23
Can Rach and Anne Burrell Save the Worst Cooks in America with a Burger Boot Camp?
7
2015-09-22
Our '5, 4, 3, 2, 1' Show with a 5-Ingredient Steak, 2 Daytime Icons & a One-Ingredient Chocolate Mousse!
6
2015-09-21
Steve Harvey, Rach's 5-Ingredient Chicken Dinner & a Wedding Waffle Bar?!
5
2015-09-18
Heidi Klum's Stunning Viewer Makeover & One of the Hottest Stars of 'Empire'!
4
2015-09-17
TV Legend Carol Burnett, Dr. Travis Stork's Food Diary & a Queso Dip Mac 'n Cheese
3
2015-09-16
Dr. Phil's Epic Tennis Match with a Surprise Tennis Icon … In Front of Our Studio! Plus, Our First 'Wish Wednesday'!
2
2015-09-15
Mindy Kaling, 60-Second Snacks & a Man Bun Makeover!
1
2015-09-14
Season 10 Kicks Off with a Huge Surprise Party for Rach!
Season 9
232
2015-09-11
Have You Been Making Your Bed Wrong All These Years? Plus, Eggs 101 with Co-Host Curtis Stone
231
2015-09-10
Decorating for Dummies with The Cake Boss and an All-New 30-Minute Pasta Supper
230
2015-09-09
The Secrets Some Department Stores Don't Want You to Know!
229
2015-09-08
Shepherd's Pie, Nachos & Edible Crayons?!
228
2015-09-07
Our Labor Day Party with Sunny Anderson, Green Chili Burgers & a Back to School Makeover!
227
2015-09-03
Get Ready for Football with Our Snack Stadium Smackdown & Rach's Chili Dogs
226
2015-08-25
Bob Harper Turns One Slow-Cooker Sauce into 3 Skinny Meals! Plus, Melissa Rivers!
225
2015-08-24
Lasagna, Brownies and Chicken Waffles! 5 More Recipes to Make Before You Die
224
2015-08-18
Pizza and Popsicle Night with Jessica Alba & 5 Mind-Blowing Kitchen Gadgets
223
2015-08-17
Make Your Own Takeout! Plus, How One Mom Will Inspire You to Get Back in Your Bikini!
222
2015-08-13
We're Throwing an Epic Party with Beer Can Chicken, a Salty Sundae and Spam Sushi?!
221
2015-08-11
Katie Lee's BLT Ranch Burger, Hilary Duff, and What Is Rach's Secret to The Perfect Gravy?
220
2015-08-06
A Jaw-Dropping Makeover for Michael Strahan's Mom & Rach's Summer Zucchini
219
2015-08-04
One 'Goodfella' Shocks Rach & 2 Summer Faves from Andrew Zimmern
218
2015-07-31
David Duchovny Dishes Dating Advice & A Full Hour of Puppies!
217
2015-07-30
Which Famous Chef Brought Sunny to Tears? Plus, a Proposal You Have to See to Believe!
216
2015-07-29
Which Female Celeb Did Denis Leary Get Mistaken For? Plus, 'Dude vs. Designer' with Jeff Lewis!
215
2015-07-28
What Does President Bill Clinton Veto in His Own House? Plus, He Hits the Kitchen with Rach!
214
2015-07-27
Food, Fashion ... Even Face Washing?! We're Fixing Your Biggest Fails!
213
2015-07-24
Can You Feed Your Family for Just $60 a Week? Plus, the Audience Member Rach Picked Out for a Makeover
212
2015-07-23
Dr. Phil's Healthy Breakfast Scramble & 'Twinning' Transformations
211
2015-07-22
Why Is Peter Walsh Sleeping on the Job?! Plus, a Viewer Wears a Dress for the First Time in 20 Years!
210
2015-07-20
15 Tasty Burger Toppers & Which of Rach's Friends Is Hanging on This Giant Sticky Wall?
209
2015-07-17
Stacy London Gives You a Tour of Her Closet & WHAT Is Camouflage Ice Cream?!
208
2015-07-16
A Full Hour of 'Human Labs' with Chef Geoffrey Zakarian & Rach's Super Simple Skillet Supper
207
2015-07-13
Cat Deeley's Huge Surprise Guest for Rach & A Wedding Dress Tip-Off?!
206
2015-07-10
Dr. Ruth's Jaw-Dropping Sex Advice & The Property Brothers' Summer Tip-Off
205
2015-07-09
Why Is Nick Cannon Taking Rach to Work in a Limo? Plus, a Surprise Dinner Guest!
204
2015-07-08
LL Cool J's Dream 'Lip Sync Battle' & Rach's Dinner Takes a Fiery Turn
203
2015-07-07
Peter Walsh Cleans Up Regis' Clutter! Plus, Donny Osmond Raps?
202
2015-07-06
All New! A Summer Bra Overhaul for Buddy Valastro's Sisters
201
2015-07-03
Celebrate the 4th of July with Marshmallow Bald Eagles, a Watermelon Pizza & Rach's Chili Cheeseburgers!
200
2015-07-02
Curtis Stone Shares Grilling Secrets From His Backyard& Clinton Kelly's Top Rules for Summer Shopping
199
2015-06-25
'Empire's' Naomi Campbell & 2 Foolproof Recipes from Anne Burrell!
198
2015-06-22
2 Fairytale Makeovers & the Secret Behind This Summer's Most Delicious Cake!
197
2015-06-19
First Lady Michelle Obama's Surprise Challenge for Rach & a Chicken Pizza You Have to See to Believe!
196
2015-06-18
Ted Allen Reveals the 4 Secret Weapons Every Foodie Needs to Know
195
2015-06-17
Which Famous Face Is Hiding in Our Audience? Plus, Rach's Quick Tomato Soup!
194
2015-06-16
Cinnamon Roll Pancakes?! Sunny's Breakfast Makeover with Pancakes 6 Ways
193
2015-06-15
Peter Walsh's 31-Day Summer Challenge & a One-Pot Pasta!
192
2015-06-12
Rach's Celeb Cooking School & the Money-Saving Questions You Should Be Asking
191
2015-06-11
No 'Scandal'? No Problem! We've Got Tony Goldwyn in the Kitchen
190
2015-06-09
A Life-Changing Challenge for Michael Strahan's Parents & Who Is Our Mystery Kitchen Guest?!
189
2015-06-08
The World's Most Amazing Kids & Rach's Summer Tacos
188
2015-06-05
'Madame Secretary's' Tim Daly & the Recipe That Barely Got Past Our Censors
187
2015-06-04
Dr. Travis Stork's Leftover Makeover & Why Is Nick Lachey Blindfolded?!
186
2015-06-03
We Go Inside Dr. Ian's Stomach & Find Out What Bob Harper Eats Every Day!
185
2015-06-02
15 Shortcuts That Will Change Your Life, Including 3-Minute Breakfasts
184
2015-06-01
'Hollywood Game Night' with Jane Lynch & a Delicious $5 Meal
183
2015-05-29
Who Is the Duchess of York's Celeb Crush? Plus, Co-Host Donny Osmond!
182
2015-05-28
Rach & Cat Deeley Count Down Your Top 10 Favorite Recipes
181
2015-05-27
Kirstie Alley, 3 Guilt-Free Recipes for Summer & Rach's Zucchini Tomato Pie
180
2015-05-26
What Happens When an Animal Escapes onto Our Set?! Plus, a Burger Dedicated to Craig Ferguson!
179
2015-05-25
Rach & Mario Batali Turn Our ENTIRE Studio into a Farmers Market!
178
2015-05-22
Dr. Oz, 3 Healthy Summer Smoothies & Sunny's Skinny Slow Cooker Chili
177
2015-05-20
5 More Recipes to Make Before You Die
176
2015-05-19
'Weight Loss Warriors' Final Weigh-In with Bob Harper & Summer Slow Cookers
175
2015-05-18
Sharon Osbourne Is Making Our Audience do WHAT?! Plus, 5-Ingredient Dishes
174
2015-05-15
Michael Strahan's in the House for His Mom's Final Weigh-In & a 'Pitch Perfect 2' Star
173
2015-05-14
Tom Brokaw, Tony Bennett & the Emotional Finale of Our 9 Million Meals Challenge
172
2015-05-13
Who Will Win Our Culinary School 'Tuition Competition'? Plus, Latin Superstar Thalia!
171
2015-05-12
Rach Is Cooking with Cookie Monster! Plus, the Legendary Lily Tomlin & Deion Sanders
170
2015-05-11
TV Icon Candice Bergen & One of Our Longest Hair Makeovers EVER!
169
2015-05-08
French Toast Cupcakes for Mother's Day & Curtis Stone Cooks for His Wife
168
2015-05-07
Dr. Jill Biden Cooks with Rach & Dr. Travis Stork's Farmer's Market Pharmacy
167
2015-05-06
Can Jerry O'Connell Survive 'What am I Touching?' Plus, 'Jane the Virgin' Star Gina Rodriguez
166
2015-05-05
A Cinco de Mayo Fiesta with 'NCIS' Star Pauley Perrette, a Frito Pie Burrito & a Taco Takedown!
165
2015-05-04
We're Putting LL Cool J 'On the Spot' & Rach's Fiery Kitchen Fail
164
2015-05-01
Tim McGraw Surprises His Biggest Fan & Get Ready for Mac 'n Cheese Carbonara
163
2015-04-30
Can You Get A Face Lift ... Out of a Box?! Plus, a Giant Skillet Cookie!
162
2015-04-29
Can Anthony Anderson 'Stump the Rach'?! Plus, Bob Harper's 3 New Habits for Getting Skinny
161
2015-04-28
Sunny's 40th Birthday Party with Beer Can Chicken, a Salty Sundae & Spam Sushi?!
160
2015-04-27
An All-New Mystery Taster! Plus, an Incredible Triplet Transformation
159
2015-04-24
One 'Goodfella' Shocks Rachael & a Garlic and Lemon Spaghetti
158
2015-04-23
Nick Cannon's Surprise Celebrity Carpool for Rachael!
157
2015-04-22
An All-New Human Lab & Rach Makes a Beef Bowl with Tony Gonzalez
156
2015-04-21
Turn Your Old Clutter into Cash & TV Icon David Hyde Pierce
155
2015-04-20
Pizza & Popsicle Night with Jessica Alba & 5 New Kitchen Gadgets You Need to Try
154
2015-04-17
Kevin James: The King of Pancakes?!
153
2015-04-16
Curtis Stone's Money-Saving Enchiladas & How to Save Your Broken Lipstick
152
2015-04-15
Regis' Selfie with Mel B & Rachael's Roast Meatballs
151
2015-04-14
Katie Lee's BLT Ranch Burger & the Story Behind Hilary Duff's Blue Hair!
150
2015-04-13
Kevin Bacon Plays 'Famous Foodies' & Why Is Rach Hitting the Hay with Dr. Ian?!
149
2015-04-10
'Dancing' Hottie Derek Hough & Curtis Stone's Ultimate Date-Night Meal
148
2015-04-09
First Lady Michelle Obama Answers Your Questions & a Bacon-Ranch Deviled Egg?!
147
2015-04-08
Can You Get Rid of Your Cellulite by Summer? 2 of TV's Funniest Women Are Finding Out!
146
2015-04-07
A Lasagna Lesson with Judge Patricia DiMango & Rach's Springtime Pesto Pasta
145
2015-04-06
Our 'Grand Slam' Cook-Off with Billy Gardell & 2 Baseball Legends
144
2015-04-03
Our Audience Easter Egg Hunt with Jesse Tyler Ferguson & a Chocolate Bunny Milkshake?!
143
2015-04-02
Instant Human Lab: Swimsuit Edition & the Funniest Food Reviewer on YouTube
142
2015-04-01
Roma Downey, 5-Ingredient Recipes & We're Pranking Rach on April Fools' Day!
141
2015-03-31
A Surprise Pizza Alla Vodka Lesson for a 'House of Cards' Star!
140
2015-03-30
Elizabeth Hurley's Surprise Selfie Challenge & 5 Desserts from 1 Box of Cake Mix!
139
2015-03-27
T.I., Geoffrey Zakarian & a 5-Step Guide to Making the Perfect Pasta
138
2015-03-26
Rach's Buffalo Sloppy Joes, Elisha Cuthbert & Tim Gunn's Fashion Fit Guide
137
2015-03-25
Martina McBride's Easy Party Recipes & 5 Sammies in a Pocket
136
2015-03-24
Clinton Kelly's Fashion Fail Fixes & the Questions You're Too Embarrassed to Ask Your Doc!
135
2015-03-23
Ted Allen's 4 Secret Weapons Foodies Need to Know!
134
2015-03-20
Our First-Ever Viewer-Produced Episode with Kate Walsh
133
2015-03-19
Our 'Fridge Raiders' Are Making Over Scott Wolf's Fridge!
132
2015-03-18
A Mac 'n Cheese Makeover & Chelsea Handler's Run-In with the Cops
131
2015-03-17
Our St. Patrick's Day Party with Chocolate Guinness Cake, Soda Bread & Beer-Battered Sammies!
130
2015-03-16
Our 'Bracket, Lunch and Dinner' Cook-Off With Basketball Superstar Grant Hill!
129
2015-03-13
2 Incredible Midnight Makeovers & the Big Screen's New Cinderella!
128
2015-03-12
Michael Symon & Rach's Foodie Friends Celebrate Throwback Thursday!
127
2015-03-11
Chef Anne Burrell Takes You Inside Her Kitchen & Rach's French-Onion Hanger Steaks
126
2015-03-10
5 Family-Favorite Recipes with Curtis Stone & an Incredible Mac 'n Cheese!
125
2015-03-09
Game Night with Clinton Kelly's Boozy Milkshakes & Our Funniest Fail Yet!
124
2015-03-06
'Hollywood Game Night' with Jane Lynch & Instagram's Most Adorable Dog Crashes Our Show!
123
2015-03-05
4 New Ways to Dye Your Eggs for Easter & Rach ... the Superhero?!
122
2015-03-04
An Emmy-Winning TV Star Goes Undercover in Our Audience
121
2015-03-03
Anthony Anderson, 3 Brand-New Baked Potatoes & How You Can Make Money From Your Couch!
120
2015-03-02
Rach's 'Killer' Cooking School & Money-Saving Questions You Should Be Asking
119
2015-02-27
Rach's Dinner Party with Chef Curtis Stone & Tiffani Thiessen
118
2015-02-26
What's the Best Time of Day to Cheat on Your Diet?! Plus, 60-Second Desserts!
117
2015-02-25
Can Rach Beat William H. Macy at 'Kitchenary'? Plus, Dr. Ian's Cheesy-Stuffed Chicken
116
2015-02-24
Elisabeth Hasselbeck's Skinny Slow-Cooker Sliders
115
2015-02-23
Emeril Lagasse, an 'Amazing' Proposal & the Reunion that Brought Sunny to Tears!
114
2015-02-20
What's an Oscar Party without Chicken Wings & Big Hero 6's Baymax?!
113
2015-02-19
It's Our 50 Shades of Grey-Inspired Show with Marcia Gay Harden & FIFTY Grey-Hair Makeovers
112
2015-02-18
Pasta School with Mario Batali, Fabio Viviani, Lidia Bastianich … & Nate Berkus?!
111
2015-02-17
Fat Tuesday with Dale Earnhardt Jr. & Rach's New Orleans-Style Pinwheel Steaks
110
2015-02-16
Life-Sized Monopoly with Lara Spencer, Terry Crews & 'Name That Animal'?!
109
2015-02-13
Our Valentine's Day Party with Steve Harvey as We Throw an In-Studio Wedding
108
2015-02-12
Look Better in Your Underwear! Plus, Bob Harper's Stuffed Peppers
107
2015-02-11
Our First Mystery Taster of 2015 & Can Losing Clutter Help You Lose Weight?
106
2015-02-10
How David Duchovny Brought Rach to Tears & Our First-Ever Dog Adopt-a-Thon
105
2015-02-09
Why Is Dr. Oz Wearing a 'Drunk' Suit? Plus, Slim Down with Your Slow Cooker
104
2015-02-06
Why is Dr. Phil Taking Over Rach's Kitchen? Plus, a Two-for-One Makeover!
103
2015-02-05
Scandal Hunk Tony Goldwyn & Our Theme Song Gets a Viewer Makeover!
102
2015-02-04
Empire's Naomi Campbell & 2 Foolproof Recipes from Anne Burrell!
101
2015-02-03
The World's Most Amazing Kids & a Kid-Friendly Taco Supper
100
2015-02-02
Pot Pies, Pasta & Pinwheel Steaks! We Count Down the Top 10 Recipes of the Year!
99
2015-01-30
Our Super Bowl Recipe Playoff with Football Greats & Their Wives! Plus, Super Spicy Wings
98
2015-01-29
President Bill Clinton Cooks Game-Day Chili With Rach
97
2015-01-28
Rach's Pretzel Chicken Fingers & 5 Game-Day Cheeseballs
96
2015-01-27
Why Does Your Foot Fall Asleep, Nose Run & Why Do We Burp? Find Out!
95
2015-01-26
Our Countdown to Kick-Off Begins with Jesse Palmer & Slow-Cooker Buffalo Chicken Sliders
94
2015-01-23
Gwyneth Paltrow's Hilarious Kiss with Johnny Depp & a Sexy 'Make-Under' with Stacy London
93
2015-01-22
Our Fiercest 'Fantasy Foodball' Competition Yet, Amanda Peet & a Sliced Steak Sandwich
92
2015-01-21
Buttered Coffee?! Robert Irvine Reveals 2015's Biggest Food Trends
91
2015-01-20
Oscar Nominee Julianne Moore & a Guilt-Free Margarita
90
2015-01-19
Donny Osmond & What Made the Duchess of York Run Off Set?
89
2015-01-16
Kirstie Alley & Guilt-Free Game-Day Grub
88
2015-01-15
Want to Lose Inches Off Your Tummy? Can Our "Human Lab" Help?
87
2015-01-14
7 Figure-Friendly Fake-Outs & a Surprise Makeover for Mally's Biggest Fan
86
2015-01-13
Struggling to Keep Your New Year's Resolutions? Let Dr. Ian & Our Problem Solvers Help!
85
2015-01-12
How Many Wings Can Curtis Stone Make in 10 Minutes? Plus, Clinton Kelly's Cheese Fondue!
84
2015-01-09
Jane Seymour in a Bikini at 63 & the New Short-Cut for Celeb Abs!
83
2015-01-08
For the First Time Ever ... 30-Minute Meals: The Game!
82
2015-01-07
What You Need to Know Now About Cold & Flu Season with Dr. Travis Stork
81
2015-01-06
Bald Spots Begone? Kyan's Manscaping Magic! Plus, an All-New Croque Madame
80
2015-01-05
Peter Walsh's 31-Day Clutter Challenge Kicks Off & Can Dr. Ian Help 7,000 People Lose Weight?
79
2015-01-02
David Muir, a Fancy Fakeout Supper & Rach's Makeover for 4 Airline Agents
78
2015-01-01
Your Diet Starts Today! Bob Harper's Skinny Spaghetti & a Weight-Loss Mission with Our Entire Audience
77
2014-12-31
Let Rach, Clinton & Peter Plan your Perfect New Year's Eve Party
76
2014-12-30
Neil Patrick Harris, Rach's Chicken in Chianti & the Smallest Space Makeover We've Ever Done
75
2014-12-29
Dr. Phil Plays Musical Meals with 5 Famous Chefs & Rach's 30-Minute Caprese
74
2014-12-26
Football Legend Tony Gonzalez's Game-Day Supper & A Huge Surprise from Guy Fieri
73
2014-12-25
Why Is Michael Strahan Dirty Dancing in Our Studio? Plus, Rach's Turkey-Vegetable Chili
72
2014-12-24
Our Christmas Eve Spectacular with 5 Surprise Proposals & 3 New Twists on Fruit Cakes
71
2014-12-23
We're Going Inside the White House & Rachael's Simple Chicken Supper!
70
2014-12-22
Nate, Mally and Peter Solve Your Last-Minute Holiday Problems
69
2014-12-19
What Celeb Left Cameron Diaz Star Struck? And the Biggest Wish Ever Granted on Our Show!
68
2014-12-18
Curtis Stone's Sticky Toffee Ice Cream & the Kitchen Makeover That Brought Rach to Tears
67
2014-12-17
Katie Lee's Pigs in a Blanket Wreath? And Money-Saving Deals on Holiday Kitchen Gadgets
66
2014-12-16
Sunny's Pesto Chicken Wings & Holiday Cookies with the Adorable MasterChef Junior Kids
65
2014-12-15
Our First-Ever 'Wrap-Along' with Cat Deeley & a 'Frozen'-Inspired Christmas Tree
64
2014-12-12
It's an A-List Event! Carrie Underwood, Andy Cohen & Cool Kitchen Gadgets with Christopher Kimball
63
2014-12-11
Piers Morgan's "Spaghetti Morgan-ese" & Makeovers That Can Take Years Off Your Look
62
2014-12-10
A Gingerbread Man Makeover, Comedian J.B. Smoove & New Holiday Deals to Save You Money
61
2014-12-09
What Does Bob Harper Eat Every Day? Plus, Inside Dr. Ian's Stomach & Rach's Two-for-One Dinner
60
2014-12-08
Our Tastiest Holiday Party Ever with Trisha Yearwood & a Pigs in a Blanket Makeover
59
2014-12-05
Chef Richard Blais' Popcorn Bar for a Hunger Games Star! Plus, Our Ugly Christmas Sweater Competition
58
2014-12-04
Rach's Italian Roast Chicken & You'll Never Guess Our 'Mystery Taster's' Identity
57
2014-12-03
Now Hear This; Cheeseballs Are Back! Plus, Daymond John & Holiday Deals Just for Our Viewers!
56
2014-12-02
It's Giving Tuesday! Kristin Chenoweth's Emotional Superfan Surprise & Rach's Incredible $500,000 Donation
55
2014-12-01
Our Countdown to Christmas Begins with Tori Spelling, a Holiday Tip-Off & Rach's Chili Meatloaf
54
2014-11-28
Our 'Fridge Raiders' Are Turning Your Thanksgiving Leftovers into 3 New Meals
53
2014-11-26
Curtis Stone's Carve-Along, Robin Roberts & a $5 Thanksgiving Dinner
52
2014-11-25
Russell Brand Uncensored, Michael Strahan's Message for His Parents & What Is Spatchcock Turkey?
51
2014-11-24
Our 1,500th Surprise Episode! (Here's a Hint … OPRAH!)
50
2014-11-21
Thanksgiving A-to-Z with Carla Hall's Slow-Cooker Cheesecake & Cornbread Stuffing Waffles
49
2014-11-20
Our Two-Day Thanksgiving A-to-Z Event Kicks Off with Rach's Family Stuffing, Emeril Lagasse & Nate Berkus!
48
2014-11-19
Katie Lee's Thanksgiving Fake-Outs & Rachael's 'Super Melt'
47
2014-11-18
The Surprise That Stunned Katherine Heigl & Three Words: Beer Can Turkey
46
2014-11-17
A Scandal Star's in the Kitchen, David Muir's Stuffing Lesson & Rach Busts a Move with the 'Dancing Anchor'!
45
2014-11-14
Bob Harper's Holiday Survival Guide & We Turn Spaghetti Squash into a Thanksgiving Fave!
44
2014-11-13
2 New Ways to Deep Fry Your Turkey & a Thanksgiving Throwdown with the Ladies of Hot in Cleveland
43
2014-11-12
Dr. Travis Stork's Twist on Thanksgiving Leftovers! Plus, WHAT is "Lick Lachey"?!
42
2014-11-11
Our First-Ever Veterans Day Cook-Off! Plus, Sunny Anderson's Make-Your-Own Pumpkin Pie Latte
41
2014-11-10
Chef Curtis Stone Joins Team Rach as Our New Co-Host! Don't Miss His 4 Twists on Potatoes!
40
2014-11-07
Rach's New Family Pasta & The Illusionists Are Making Our Mystery Co-Host Magically Appear!
39
2014-11-06
Howie Mandel Pranks Our Audience, a No-Bake Pumpkin Pie & a Slow-Cooker Pecan Pie?
38
2014-11-05
Rach Turns the Heat Up with Sofia Vergara, Co-Host Taye Diggs & a 5-Alarm Cook-Off
37
2014-11-04
Tom Bergeron's Favorite America's Funniest Home Videos of All Time & Your Funniest Food Fails!
36
2014-11-03
3 Celeb Chefs Take Over One Celeb's Fridge to Make Meals in Just Minutes!
35
2014-10-31
Find Out What Rach Will be for Halloween! Plus, 3 Mystery Trick-or-Treaters & a Candy Corn Pizza!
34
2014-10-30
It's Our Big "Thanks a Million" Show - One Million Big Bucks! We're Giving Over a Million Dollars in Gifts to Real-Life Heroes
33
2014-10-29
Why Are Debra Messing & Rach Stomping Grapes? Plus, Bob Harper Says You Can Have Your Cocktail & Lose Weight, Too!
32
2014-10-28
Dr. Ian's Weight-Loss Smoothie for Michael Strahan's Parents & the Property Brothers' Halloween Tip-Off!
31
2014-10-27
Fall Party Guide: Pasta Fake-Outs with Julianne Hough, Chef Robert Irvine & Halloween "Eyeball" Meatballs
30
2014-10-24
Peter Walsh and Richard Marx Declutter Your Car & 'Shark Tank's' Daymond John 'Invests' in Rach's Pasta
29
2014-10-23
Clinton Kelly Fixes Your Fashion Fails & the Questions You're Too Embarrassed to Ask Your Own Doc!
28
2014-10-22
Craig Ferguson & Rach Play 'What Are We Touching' ... With a Shark?! Plus, Nate Berkus!
27
2014-10-21
Country Superstar Martina McBride Plans Your Next Party & a Buffalo Chicken in a Pocket
26
2014-10-20
Chelsea Handler's Run-In with the Cops! And Rachael's Mac 'n' Cheese Makeover!
25
2014-10-17
Josh Duhamel, the Fab 4… in Flapjacks?! And a Giant Surprise for Rachael!
24
2014-10-16
Rach's Football Party with NFL Legend Tony Gonzalez, Miranda Cosgrove & a Meatball Bar!
23
2014-10-15
Salami Cheesecake?! Chef Mario Batali Shops the Farmers' Market, Right in Our Studio!
22
2014-10-14
Geoffrey Zakarian Teaches T.I. the Perfect Pasta, a Better Sleep Smoothie & Rach's Hilarious Foil Fail!
21
2014-10-13
Co-Host Nick Cannon Reveals His Kids' Halloween Costumes & Teaches Rach to Breakdance!
20
2014-10-10
We Reveal the Chefs Behind "Thug Kitchen", Tim Daly & Rach's Lettuce Taco Cups
19
2014-10-09
Who Will Win Our 'Snack Stadium Smackdown'? Coach Bill Cowher Decides! Plus, Rach's Game-Day Chili Dogs
18
2014-10-08
From Rach's Outfit to What's for Dinner, Our Viewers And Kate Walsh Produce Our Show!
17
2014-10-07
Carter Oosterhouse Saves You $1,000 at Home & Who Knows Emeril Best - Rach or Ty Pennington?
16
2014-10-06
How Rach's Trip to the Airport Turned into our Biggest Makeover of the Season! Plus, ABC News' David Muir!
15
2014-10-03
Inside Chef Anne Burrell's Kitchen, What's in Cat Deeley's Purse & Rach's Steak with French Onion Sauce
14
2014-10-02
Celebrity Truth or Dare with Nick Lachey & 3 Things to Do with Your Leftover Meatballs!
13
2014-10-01
Rach's Emotional Surprise for a Superfan! Plus, Sunny's Making Cinnamon Roll Pancakes! 'Nuff Said
12
2014-09-30
Rach's Stress-Free Dinner Party with Clinton Kelly's Mini-Meatballs & Peter Walsh's Clean-Up Tips
11
2014-09-29
Why Are These Two Chefs Taking Their Clothes Off? 'Naked Cooking' – That's Why!
10
2014-09-26
15 Shortcuts That Will Change Your Life, Including Sunny's 3-Minute Breakfasts ... in a Mug?!
9
2014-09-25
Football Superstar Victor Cruz Helps Rach Pull Off 9 Surprise Marriage Proposals That Will Leave You in Tears
8
2014-09-24
Cost-Saving Tips You Have to See to Believe for Your Next Grocery Store Trip & Who Is Season 9's First Mystery Taster?
7
2014-09-23
Michael Strahan Brings His Parents to Rachael & Dr. Ian for the Weight-Loss Challenge of Their Lives
6
2014-09-22
Rachael's Problem Solvers: Fast Fixes for Pimples, Cellulite and Clutter!
5
2014-09-19
Neil Patrick Harris Plays 'Kitchenary' & Can John Gidding Pull off the Smallest Space Makeover Ever?!
4
2014-09-18
Football Legend Tony Gonzalez's Game-Day Chili & A Huge Surprise from Guy Fieri
3
2014-09-17
Biggest Loser Trainer Bob Harper Is Helping Our ENTIRE AUDIENCE Lose Weight!
2
2014-09-16
5 Chefs Play 'Musical Meals' with Dr. Phil & Katharine McPhee's Dog Crashes Our Show!
1
2014-09-15
Our '9 Million Meals' Challenge Begins & 'Magic Michael' Strahan Dances for Donations
Season 2
33
2007-10-24
The Dilley Sextuplets
1
2007-09-10
Season Two Premiere - Teri Hatcher
Season 1
1
2006-09-18
Rachael's Premiere